CineNoche at Violet Crown Cinema: Collisions
Collisions, a film by Richard Levien
USA, 2018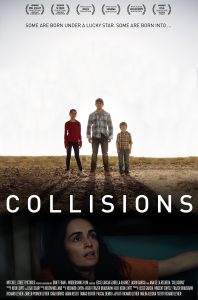 Drama/Immigration, 90 min, Color
English, Spanish with English subtitles
The film will be preceded by the short film PLANE PRETEND directed by Sharon Arteaga.
Two Screenings!
Wednesday, November 6th, 2019, 7:00pm
Sunday, November 10th, 2019, 11:00am
(tickets available through links above)
Violet Crown Cinema
434 W 2nd Street, Austin, TX 78701
Tel: (512) 495-9600
CLA members will receive a $2 discount on tickets purchased at the box office or by phone.

About the feature: COLLISIONS
Twelve-year-old Itan's promising life in San Francisco is turned upside down when she comes home from school, with her younger brother, to find their apartment ransacked and her mother missing. Suddenly she must rely on her estranged uncle, a big rig truck driver. Itan manipulates him into taking them across the country in his truck, trying to find her mother and stop her deportation. COLLISIONS is the winner of the Audience Award for Best Narrative Feature at the 22nd Cine Las Americas International Film Festival.
About the short film: PLANE PRETEND
Pilar and her brothers are ecstatic to take their first flight, but they must hide their excitement or risk revealing their undocumented status and being deported. PLANE PRETEND is the winner of the Texas Archive of the Moving Image (TAMI) Award and the Hecho en Tejas Audience Award at the 22nd Cine Las Americas International Film Festival.

CineNoche is a film series presented in partnership with Violet Crown Cinema.