Mariah ¡qué baile! / Dance, Mariah!
A film by Anita Abbasi, Martin Baena
This film was screened as a part of the 2018 Cine Las Americas International Film Festival (CLAIFF21)
This short film was part of the Panorama Shorts Program 1

[youtube https://www.youtube.com/watch?v=lOlCyV6lHIQ]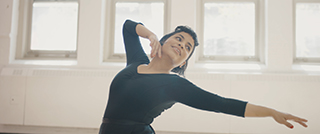 Canada, Drama, 2017
13 min, Color
English
Mariah, a scatterbrained teenager and would-be ballet dancer, guns for a coveted audition. She enlists the help of her trenchant dance instructor, and when demands to pursue a dance career consume her life, her two best friends distance themselves from her. The film looks at some of the nuances of growing up Latinx in Canada and the choices faced in a world that is both familiar and foreign.
Texas Premiere
www.facebook.com/mariahquebaile
Print Source: Martin Baena, martin.e.baena@gmail.com