Ukamau y Ké / That's How It Is, and What!
A film by Andrés Ramírez
This film was screened as a part of the 2018 Cine Las Americas International Film Festival (CLAIFF21)
This feature was preceded by the short film Beneath the Trees

[youtube https://www.youtube.com/watch?v=VjMg8EU00X0]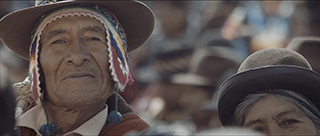 Ecuador/Bolivia, Documentary, 2017
86 min, Color
Aymara, Spanish with English subtitles
Abraham Bojórquez (Ukamau y Ké) developed the so-called hip hop Aymara, with his social lyrics he shook the Latin American society in the early 21st century. He died violently at the peak of his musical career, the same day he finished recording his second album. Years later, his friend, Ecuadorian rapper and director Andrés Ramírez, returns to Bolivia to uncover the reasons for his death and to find him in the Andean cyclical time. In this surreal journey Ukamau y Ké comes back to life through records, files, and dream visions.
International Premiere
Biofilmography

Carlos Andrés Ramírez Iglesias is a photographer, documentary film maker and founder of the Audiovisual Production Company ProductOtra. His documentary UKAMAU Y KÉ won the award from The National Film Council Board of Funds in Ecuador (CNCINE) for script writing in 2012, and for production and postproduction in 2014. He also won an award in the international contest Ventana Andina in 2013 with the documentary RIMAS Y COLORES EN LA FRONTERA NORTE (Andean Community of Nations 2013).
Credits
Producer: Andrés Ramírez, Esteban Coloma, Amanda Robalino, Fabián Bolivar
Production Companies: ProducOTRA, Color FX
Screenwriter: Xiana Yago, Andrés Ramírez, Miko Meloni
Cinematographer: Miko Meloni
Editor: Andrés Ramírez, Miko Meloni
Sound Design: Juan José Luzuriaga
Music: Taller la Bola, Ukamau y Ké
Print Source: Sergio García Locatelli, sales@quechuafilms.com