Por los camiones del sur / On Southern Buses
A film by Sven Kirschlager, Sirio Magnabosco
This film was screened as a part of the 2018 Cine Las Americas International Film Festival (CLAIFF21)
This feature was preceded by the music video Never Been Alone

[youtube https://www.youtube.com/watch?v=-4v2nWMFBxI]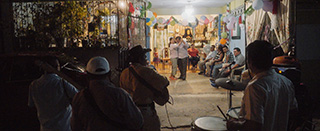 Germany/Mexico, Documentary, 2017
93 min, Color
Spanish with English subtitles
In the documentary POR LOS CAMIONES DEL SUR the stories of six musicians meander along curvy federal roads through the breathtaking scenery of southern Mexico. The protagonists do not perform in the spotlight of big stages but earn their living with guitars and accordions in the narrow aisles of beaten country buses. Dripping with sweat, they drown out geriatric motors while slipping through the tightening net of inspectors and controls. Beyond the roadside ditches, they philosophize about the qualities of fighting cocks, tout nutritional supplements, or dress up inside filthy backstage rooms of Acapulco nightclubs while dreaming of their leap to stardom.
US Premiere
www.augohr.de/catalogue/por-los-camiones-del-sur
Biofilmography

Sven Kirschlager wrote his PhD thesis on travelling musicians aboard rural Mexican buses, meeting and accompanying the later protagonists of his documentary during work and everyday life. POR LOS CAMIONES DEL SUR is his first film.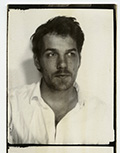 Sirio Magnabosco's photographic work has been exhibited in Italy, Germany, France, Greece, Spain, New York, Tokyo and published on magazines like The NY Times, Vanity Fair, Wired and GQ. In 2017 he co-directed his first feature documentary: POR LOS CAMIONES DEL SUR.
Credits
Producer: Maria Kling
Production Companies: Studio Kalliope
Screenwriter: Sven Kirschlager
Cinematographer: Sirio Magnabosco
Editor: Dalia Castel
Sound Design: Julian Cropp
Music: Hexiquio Hernández Muñoz, Salvador Hernández Muñoz, Jesús García Cruz, Julio García Galeana, Lorenzo Villanueva Nicacio, Gabriel Villanueva Noyola
Cast: Hexiquio Hernández Muñoz, Salvador Hernández Muñoz, Jesús García Cruz, Julio García Galeana, Lorenzo Villanueva Nicacio, Gabriel Villanueva Noyola
Print Source: Markus Kaatsch, markus@augohr.de