Olancho
A film by Chris Valdes and Ted Griswold
This film was screened as a part of the 2018 Cine Las Americas International Film Festival (CLAIFF21)
This feature was preceded by the music video Marea de Lumbre (Tide of the Flame)

[youtube https://www.youtube.com/watch?v=k-NEioZxmu8]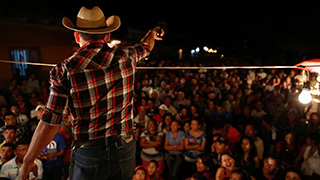 Honduras/USA, Documentary, 2017
70 min, Color
Spanish with English subtitles
From a radio cabin in an unknown location, singer/songwriter Manuel Chirinos tells the story of his life as a narcocorrido musician. He's the lead singer of "Los Plebes de Olancho," the most infamous band in Eastern Honduras. Manuel introduces us to his bandmates, their history, and their life on the road. We learn that former bandmates have even been killed for their music. Manuel reveals that he too has been threatened because of his music.
Regional Premiere
Biofilmography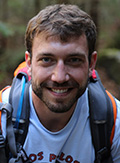 Chris Valdes graduated from Virginia Tech in 2010 with a degree in psychology. To re-connect with his Latin roots he moved to Central America. Having always admired his father's love of storytelling, he aspires to carry on that tradition through the medium of film.
Ted Griswold graduated from Columbia University in 2010 with English and Spanish degrees. For two years he taught English at a high school in the agricultural province of Olancho, Honduras. He fell in love with the local folk music and wants to share it with the world.
Credits
Producer: Chris Valdes, Ted Griswold
Production Companies: Olancho Movie, Tercer Piso
Cinematographer: Shlomo Godder
Editor: Andrea Chignoli
Sound Design: Damien Adleman
Music: Stash Wyslouch
Cast: Los Plebes de Olancho
Print Source: Chris Valdes, olanchomovie@gmail.com