Jeffrey
A film by Yanillys Perez
This film was screened as a part of the 2018 Cine Las Americas International Film Festival (CLAIFF21)
This feature was preceded by the short film Casting in Jaguey Grande

[youtube https://www.youtube.com/watch?v=ajy-uX4U_RU]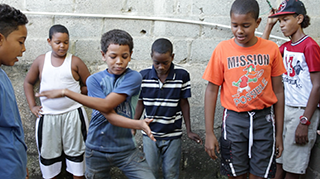 Dominican Republic/France, Documentary, 2016
78 min, Color
Spanish with English subtitles
Jeffrey is a kid from the streets of Santo Domingo who dreams of becoming a Reggaeton singer, but in order to achieve his goals he must first overcome the tough realities of the world around him.
Regional Premiere
www.yprfilms.com, www.facebook.com/FilmJeffrey
Biofilmography

Yanillys Pérez is a Dominican-Venezuelan director, writer, producer, and actress. Her first feature film JEFFREY had its world premiere at the Toronto International Film Festival in 2016, where she won the Dropbox Discovery Filmmaker Award. Her short film TECHOS ROTOS was the first Dominican short film selected at Clermont Ferrand International Film Festival. As an actress, she was part of the Golden Globe winner film CARLOS directed by Olivier Assayas.
Credits
Producer: Thibaud Billiard, Yanillys Perez
Production Companies: YPR Films
Screenwriter: Yanillys Perez
Cinematographer: Jan Everetz, Francis Adames, Gibran Abrales, Oliver Mota, Yanillys Perez
Editor: Mathilde Van de Moortel
Sound Design: Olivier Goinard, Irving Deschamps, Juliette Heintz, Bobadilla
Baez
Music: Jeffrey, Joselito de la Cruz, Jeyson de la Cruz
Cast: Joselito de la Cruz, Jeyson de la Cruz, Junior de la Cruz
Print Source: YPR Films, yprfilms@gmail.com