Ceux qui viendront, l'entendront / Those Who Come, Will Hear
A film by Simon Plouffe
This film was screened as a part of the 2018 Cine Las Americas International Film Festival (CLAIFF21)
This feature was preceded by the short film DACAmented

[youtube https://www.youtube.com/watch?v=sx-nQRKpkbs]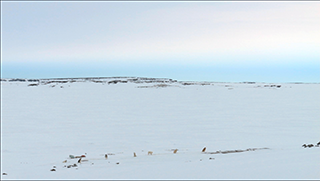 Canada, Documentary, 2017
77 min, Color
American Sign Language, Eastern Canadian Inuktitut, English, French, Abenaki, Atikamekw, Innu, Mohawk, Naskapi with English subtitles
THOSE WHO COME, WILL HEAR proposes a unique meeting with the speakers of several indigenous languages of Quebec — all threatened with extinction. The film starts with the discovery of these unsung tongues through listening to the daily life of those who still speak them today. Buttressed by an exploration and creation of archives, the film allows us to better understand the musicality of these languages and reveals the cultural and human importance of these venerable oral traditions by nourishing a collective reflection on the consequences of their disappearance.
Regional Premiere
www.f3msurdemande.ca/ceux-qui-lentendront-viendront
Biofilmography

Hailing from Rouyn-Noranda, Simon Plouffe lives and works in Montreal, Quebec. His first documentary OTHERS' GOLD (2011), has been shown in fifteen international festivals (RIDM, Dok.Fest, Guadalajara, Big Sky) and has received a Merit Award for Advocacy at Montana CINE Int. Film Fest and the Silver Lei Award at the Honolulu Film Awards. His second feature-length documentary THOSE WHO COME, WILL HEAR (2017), bowed at the 56th edition of Ann Arbor Film Festival in 2018. He is currently developing a documentary on blindness caused by armed conflicts.
Credits
Producer: Simon Plouffe
Production Companies: Les Films de L'autre
Screenwriter: Simon Plouffe
Cinematographer: Simon Plouffe, Stéphanie Weber-Biron, Gabriele Kislat
Editor: Natalie Lamoureux
Sound Design: Simon Plouffe
Music: Geronimo Inutiq
Print Source: Clotilde Vatrinet – LES FILMS DU 3 MARS​, cvatrinet@f3m.ca​