Los versos del olvido / Oblivion Verses
A film by Alireza Khatami
This film was screened as a part of the 2018 Cine Las Americas International Film Festival (CLAIFF21)
This feature was preceded by the music video Gospel No. 1

[youtube https://www.youtube.com/watch?v=HD1_g8_VmTE]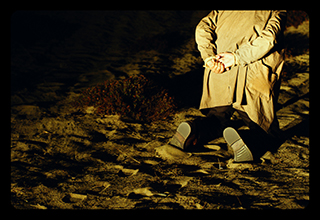 France/The Netherlands/Germany/Chile, Political Drama/Poetic Drama, 2017
92 min, Color
Spanish with English subtitles
The elderly caretaker of a remote morgue possesses an impeccable memory for everything but names. He passes his days showing corpses to those searching for their lost ones. When a protest in a nearby city breaks out, and the militia covertly raids the morgue to hide civilian casualties, he discovers the body of an unknown young woman. Evoking memories of personal loss, he embarks on a magical odyssey to give her a burial with the help of a mystic gravedigger who collects stories of the dead, an old woman searching for her long-lost daughter, and a hearse driver tormented by his past.
Texas Premiere
www.facebook.com/OblivionVerses
Biofilmography

Alireza Khatami (1980) is an independent filmmaker who folds fantasy elements into otherwise realistic narratives. His works explore themes of memory, trauma and identity politics with dark humor and unapologetic wit. He started as an assistant to several prominent Iranian directors, including Asghar Farhadi. He studied visual effects in Malaysia, and went on to receive his MFA in film production from the Savannah College of Art & Design. His short film, MR. CHANG'S NEW ADDRESS, premiered at Director's Fortnight of Cannes Film Festival.
Credits
Producer: Vincent Wang, Fred Bellaïche, Dominique Welinsky, Fabien Massah, Catharina Schreckenberg, Joost de Vries, Leontine Petit, Giancarlo Nasi
Production Companies: House on Fire, Endorphine Production, Lemming Films, Quijote Rampante
Screenwriter: Alireza Khatami
Cinematographer: Antoine Héberlé
Editor: Florent Mangeot
Sound Design: Markus Krohn, Tom Korr
Cast: Juan Margallo, Tomás del Estal, Manuel Moron, Itziar Aizpuru, Gonzalo Robles, Amparo Noguera
Print Source: Urban Distribution International, antonia@urbangroup.biz