La memoria de mi padre / My Father's Memory
A film by Rodrigo Bacigalupe Lazo
This film was screened as a part of the 2018 Cine Las Americas International Film Festival (CLAIFF21)
This feature was preceded by the short film Poliangular

[youtube https://www.youtube.com/watch?v=HWFbBTuLbmU]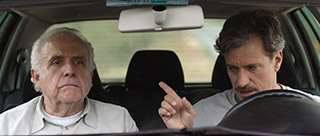 Chile, Drama/Road Movie, 2016
87 min, Color
Spanish with English subtitles
This is the story of Alfonso, a repressed adapter of American sitcoms who at the age of 50, and following the death of his mother, is forced to take care of his father whom he cannot stand because it is a true reflection of his own affective defects and stubbornness. The fact is that now the old man is losing his memory, becoming a child, far from the strong man he used to be, and is obsessed with the idea that his wife is still alive, lost in a hospital near the ocean. Can Alfonso live with the weight of his own memories and the baffling insecurity of present time? This story takes him on a journey to try to find a mother who is no longer among the living, but still present in the heart of his father.
North American Premiere
Biofilmography

With a degree in Direction for Film and Television from Duoc UC in Chile, Rodrigo Bacigalupe's short films have won awards in Chilean and international festivals and been showcased in cable and network television shows. His short film ALMA DE PAPEL (2003) won at multiple festivals and is part of UNESCO's audiovisual channel. In 2006, he received a grant from Fondo Audiovisual to pursue a Masters Degree in Screenwriting at the Escuela Universitaria de Artes y Espectáculos (TAI) in Madrid, Spain. LA MEMORIA DE MI PADRE is his first feature.
Credits
Producer: Luis La Rivera Rentería
Production Companies: No More Dramas Films EIRL
Screenwriter: Rodrigo Bacigalupe Lazo
Cinematographer: Miguel Bunster Claudet
Editor: Luis La Rivera Rentería
Sound Design: José De la Vega
Music: Milton Núñez Mora
Cast: Jaime Mc Manus, Luz Jiménez, Marcial Tagle, María Izquierdo, Mireya Sotoconil, Romina Mena, Tamara Tello, Tomás Vidiella