El último traje / The Last Suit
A film by Pablo Solarz
This film was screened as a part of the 2018 Cine Las Americas International Film Festival (CLAIFF21)

[youtube https://www.youtube.com/watch?v=PvLQ3NXyhgI]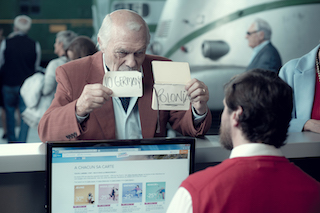 Spain/Argentina, Drama/Comedy, 2017
92 min, Color
Spanish, Yiddish, German, Polish, French with English subtitles
At 88, Abraham Bursztein is seeing his place in the world rapidly disappear. His kids have sold his Buenos Aires residence, set him up to move to a retirement home, and disagree on how to handle his fading health. But Abraham survived the Holocaust, made a successful life in a foreign land, and isn't about to quietly fade away. Instead, he plots a secret one-way trip to Poland, where he plans to find the Christian friend who saved him from certain death at the end of World War II, thereby keeping his promise to return one day. Comedic and poignant in equal measure, from Argentina to Spain, across Germany and finally to Poland, Abraham is on his own but also accompanied by the characters he meets along the way, who both help him and need his help. EL ULTIMO TRAJE approaches its weighty themes with a light touch that illuminates a serious story. It is a globe-trotting surprise, a late-in-life road movie with planes, trains, and heart.
Austin Premiere
www.facebook.com/ElUltimoTrajeFilm
Biofilmography

Pablo Solarz is the writer of two of the highest grossing films in Argentina: UN NOVIO PARA MI MUJER, with remakes sold in multiple countries, and ME CASE CON UN BOLUDO. He also co-wrote the Goya award winning HISTORIAS MINIMAS for which he also won the Argentinian Film Critics Association award for Best Original Screenplay. Solarz has written over 12 films and 2 television series. EL ULTIMO TRAJE, Solarz' second feature film that he wrote and directed, is his most personal film.
Credits
Producer: Gerardo Herrero, Antonio Saura, Mariela Besuievsky, Vanessa Ragone, Juan Pablo Galli
Production Companies: Zampa Audiovisual, Tornasol Films, Hernandez y Fernandez Pc, Rescate Producciones Aie, Haddock Films, Patagonik Film Group
Screenwriter: Pablo Solarz
Cinematographer: Juan Carlos Gomez
Editor: Antonio Frutos
Sound Design: Eduardo Esquide, Pelayo Gutierrez, Alberto Ovejero
Music: Federico Jusid
Cast: Miguel Angel Sola, Angela Molina, Martin Piroyansky, Natalia Verbeke, Julia Beerhold, Olga Boladz
Print Source: Paul Hudson – Outsider Pictures, paul@outsiderpictures.us