El baile de la gacela / The Gazelle's Dance
A film by Iván Porras Meléndez
This film was screened as a part of the 2019 Cine Las Americas International Film Festival (CLAIFF22)
This feature was preceded by the short film The Ronaldo-over

[youtube https://www.youtube.com/watch?v=sZQui-pwP-w]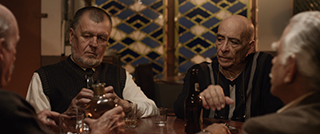 Costa Rica/Mexico, Dramatic Comedy, 2018
90 min, Color
Spanish with English subtitles
Eugenio's dream is to win the trophy he never won as a soccer player. At 72, Eugenio finds a last chance to fulfill his dream in a tropical dance contest. When he loses his partner, his only chance of winning will be to face his own prejudices and those of his family. Now, he will exchange the ball for the hall.
Regional Premiere
www.2sentidos.com/projects/el-baile-de-la-gacela
Biofilmography

Iván Porras Meléndez graduated as audiovisual producer in the Communication School at the University of Costa Rica and earned an MA in Design and Direction of Television Formats at the Complutense University of Madrid, Spain in 2012. His first feature film, EL BAILE DE LA GACELA, was supported by Ibermedia, the Costa Rican Cinematography Center Fund and the Mexican Institute of Cinematography. It won the Argos Prize in the Coproduction Forum of Guadalajara 2016 and the Works in Progress 2016 Award at the Tallinn Black Nights Film Festival.
Credits
Producer: Iván Porras Meléndez, Nicole Maynard, Marco Antonio Salgado, Marcela Esquivel
Production Companies: Dos Sentidos, Cine Feral, Argos Comunicación, La Feria Producciones
Screenwriter: Enrique Pérez Him, Iván Porras Meléndez
Cinematographer: Julio Costantini
Editor: Aldo Álvarez
Sound Design: Gasttón Sáenz
Music: Camilo Froideval, Orquesta Goliat
Cast: Marco Antonio Calvo, Victoria Montero, Patricio Arenas
Print Source: Nazarena Mattera, nmattera@australfilms.com