Vigilia / Being Awake
A film by Julieta Noemí Ledesma
This film was screened as a part of the 2018 Cine Las Americas International Film Festival (CLAIFF21)
This feature was preceded by the short film Capacocha

[youtube https://www.youtube.com/watch?v=ZEFudqWchv8]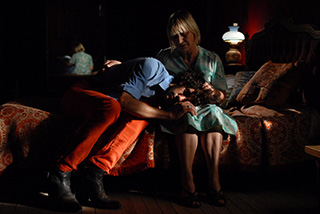 Argentina/Uruguay, Surreal/Drama, 2016
109 min, Color
Spanish with English subtitles
At dawn, Santiago wakes up naked and beaten in the middle of the desert. The young man stands very confused and goes back to his father's house. In the field, his family is suffering a great drought. His father Ernesto receives him at gunpoint, while his dog Arón protects him threateningly between his father and him. Ernesto decides, against his son's will, to sacrifice the family's dog that has become wild. Arón, the sacrificed dog, emerges from its grave and its phantasmagoric apparitions threaten Ernesto's sanity and shake the family's foundations, remaining at the mercy of his wild impulses.
Regional Premiere
www.shortsfit.wixsite.com/shortsfit/vigilia
Biofilmography

Julieta Ledesma is an Image and Sound Designer, who graduated from the University of Buenos Aires. She is currently pursuing a Master's Degree in Drama at the National Art University Institute. As a teacher specialized in scripts, she has taught at the Image and Sound Design Career at the University of Buenos Aires, at the Buenos Aires Communication study center and at the International School of Cinema and Television in San Antonio de los Baños, Cuba. She is currently part of IRUPE CINE where she develops feature films projects.
Credits
Producer: Ignacio Rey, Gastón Rothschild
Production Companies: Sudestada Cine, Sé Acuático, Irupé Cine
Screenwriter: Julieta Ledesma
Cinematographer: Matthias Fleischer
Editor: Valeria Otheguy
Sound Design: Martín Grignaschi
Music: Ruy Folguera
Cast: Osmar Nuñez, Pablo Ríos, Mirella Pascual
Print Source: ShortsFit Distribucion, shortsfit@shortsfit.com