Tourments d'amour / Torments of Love
A film by Caroline Jules
This film was screened as a part of the 2018 Cine Las Americas International Film Festival (CLAIFF21)
This feature was preceded by the short film My Soul is Old

[youtube https://www.youtube.com/watch?v=M-IGj1K2xXE]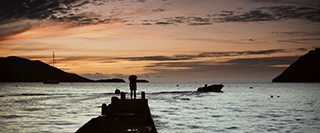 France/Guadeloupe/French West Indies, Drama, 2017
54 min, Color
French, Creole with English subtitles
On an island off the coast of Guadalupe, two sisters, Myriam and Vanessa, have planned to stay for a few days in the family house, where the sweet memory of their grandmother is still vivid. But Vanessa is not aware that a particular guest is expected for lunch and when she catches sight of her father coming, a cold and quiet man that she didn't want to see anymore, it is too late to escape the confrontation. Around the table, unsaid things, provocations and blunders will lead each individual to face their own ambiguous feelings.
Austin Premiere
www.facebook.com/tourmentsdamour
Biofilmography

After Caroline Jules graduated as an assistant director in 1997, she worked on several short movies while developing her own projects. In 2003, she won the Best Script Prize at Creteil Women film Festival for her short film PARIS DAKAR, which she directed a couple of years later. In 2006, TOURMENTS D'AMOUR a family chronicle about father-daughter relationships, won prizes for Best Script. She shot the film a few years later in Guadeloupe with Caribbean Guyanan actors. She joined the Canal+ group in 2014.
Credits
Producer: Ron Dyens, Dimitry Zandronis
Production Companies: Sacrebleu Productions, Kontras' Prod, Sky Prod
Screenwriter: Caroline Jules
Cinematographer: Stéphane Patti
Editor: Bousquet Foures
Sound Design: Thierry Delor
Music: Laurent Ganem
Cast: Daniély Francisque, Stana Roumillac, Christophe Rangoly, Harry Baltus
Print Source: Sacrebleu Productions, caarolinejules@yahoo.fr