Cine Las Americas and Ambulante Present:
Ambulante Showcase
Friday, May 3rd, 2019 || Saturday, May 4th, 2019
6:00PM each evening
Emma S. Barrientos Mexican American Cultural Center (ESB-MACC)
FREE and OPEN to the public
Cine Las Americas is proud to present a special showcase in partnership with Ambulante for the fifth consecutive year. The documentary films in this series tackle issues that resonate not only in Mexico, but also internationally. The films selected reflect both organizations' missions, in particular, support of documentary filmmaking as a means to promote discourse around important contemporary issues.

Ambulante Org. is a non-profit organization, founded in 2005 by Gael García Bernal, Diego Luna, and Elena Fortes. It is committed to supporting and promoting documentary film as a tool for cultural and social transformation. Ambulante brings documentaries and training programs to places where they are rarely available in order to foster cultural exchange, encourage a participative, informed, and critical attitude in their audience, and open new channels of expression in Mexico and abroad. Each year, Ambulante organizes an international film festival, which tours Mexico for two months with a lineup including over 100 titles from 30 countries. Currently, Ambulante is the widest-reaching documentary film festival in Mexico, and a unique exhibition space in the world. This is a non-competitive festival that offers about 50% of its programming for free.
For more information, please visit www.ambulante.org.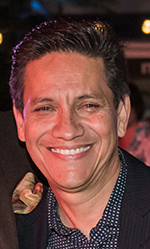 SPECIAL GUEST ARTURO CHAVEZ, SVP of Hispanic Owned & Operated Networks Olympusat Inc. As SVP of Olympusat's owned and operated channels, Arturo Chavez' key responsibilities include day-to-day management of the company's 14 different Hispanic owned and operated networks, which include: Cine Mexicano, ¡Sorpresa!, Gran Cine, Ultra Mex, Ultra Cine, Ultra Clasico, Ultra Movies, Ultra Docu, Ultra Kidz, Ultra Tainment, Ultra Luna, Ultra Macho, Ultra Fiesta, Cine Clasico. He is responsible for overseeing all acquisitions for the networks. With over two decades of experience in the entertainment industry, Arturo is widely recognized and considered one of the most knowledgeable experts of Spanish-language films in the U.S. market. Prior to this, he was Director of the Latino Division for Lionsgate where he was responsible for the division's product development, product management, and release schedule planning. He played an instrumental role in Lionsgate's assessment, qualification, and acquisition of all product lines and a significant role in the development of the company's overall Latino category. Arturo is a graduate from University of Aguascalientes in Mexico, and holds a B.A. in Business Development and Administration.
Friday, May 3
ESB-MACC Auditorium
Start time
Original Title
English Title
Director
Country
Runtime
Program Section
Friday, May 3,
6:00pm
A morir a los desiertos
To Die in the Deserts
Marta Ferrer Carné
Mexico
90 min
Ambulante Showcase
Saturday, May 4
ESB-MACC Auditorium
Start time
Original Title
English Title
Director
Country
Runtime
Program Section
Saturday, May 4,
6:00pm
Hasta los dientes
Armed to the Teeth
Alberto Arnaut Estrada
Mexico
105 min
Ambulante Showcase