Mi vida dentro / My Life Inside
A film by Lucía Gajá
This film was screened as a part of the 2018 Cine Las Americas International Film Festival (CLAIFF21)
With director Lucía Gajá in attendance
This film was part of the Ambulante Showcase
This film was co-sponsored by the Consulate General of Mexico in Austin



[youtube https://www.youtube.com/watch?v=2Z4P8fh-t8A]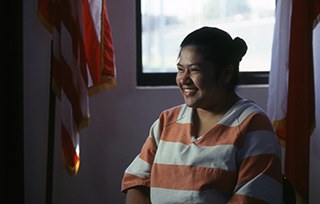 Mexico, Documentary, 2007
120 min, Color
Spanish, English with English subtitles
Rosa is a Mexican woman who, in 1999, at 17 years old, migrated illegally to Austin, Texas. In January of 2003 she was apprehended on suspicion of homicide and tried in August of 2005. The judicial process, verdict, separation from her family, impotence, and being incarcerated in a foreign country make MI VIDA DENTRO a look inside the life of Mexican immigrants in the United States.
www.2011.ambulante.com.mx/pelicula.php?i=11
Biofilmography

Lucía Gajá studied cinematographic studies with a specialty in direction at CUEC–UNAM in Mexico City. Her first feature film MI VIDA DENTRO won the best documentary award as well as the Best Documentary directed by a woman at the Morelia Film Festival in 2007. It was nominated for best documentary by the Mexican Film Academy at the Ariel Ceremony. Shown both in official and non-official selection at the 2008 Semaine de la Critique in Cannes, Tribeca and Munich Film, the film was crucial in Rosa Estela Olvera's appeal case in Austin, Texas.
Credits
Producer: Rodrigo Herranz Fanjul
Production Companies: IMCINE, Ultra Film
Screenwriter: Lucía Gajá
Cinematographer: Érika Licea
Editor: Lucía Gajá
Sound Design: Emilio Cortés, Nerio Barberis, Pablo Fulgueira, Federico Schmucler
Music: Leo Heiblum, Jacobo Lieberman
Print Source: Rodrigo Herranz Fanjul, casadelou@gmail.com