¿Señor o Señorito? / Wedded or Bachelor?
A film by Cristina Pierna, Victoria Ruiz
This film was screened as a part of the 2017 Cine Las Americas International Film Festival (CLAIFF20)
This short film preceded the screening of the feature La peor de mis bodas (My Soap Opera Wedding)
[youtube Trailer Coming Soon]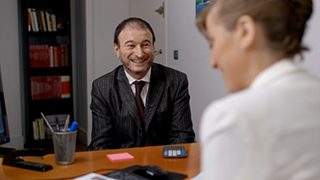 Spain, Comedy, 2015
9 min, Color
Spanish with English subtitles
In a world dominated by women, Bernardo will have to get through a peculiar interview to get the secretary position he wants.
Texas Premiere
www.promofest.org/films/senor-o-senorito
Print Source: Promofest, distribucion@promofest.org