La peor de mis bodas / My Soap Opera Wedding
A film by Adolfo Aguilar
This film was screened as a part of the 2017 Cine Las Americas International Film Festival (CLAIFF20)
With producer Alejandro Pedemonte in Attendance
This film is co-sponsored by Freestyle Language Center
Peru, Romantic Comedy, 2016
95 min, Color
Spanish with English subtitles
MY SOAP OPERA WEDDING tells the story of Maricielo, a hardworking woman who runs a small party supply shop in a local mall. As she works, she daydreams about her favorite soap opera characters' torrid romances. Her own life experiences a complete turnaround when a peculiar business proposal comes knocking at her door, courtesy of a little boy called Ignacio and his reluctant butler Pablo, who ask her to pose as a wedding planner so she can disrupt Ignacio's father's wedding.
North American Premiere
www.bigbang.pe/#Pelicula/La-Peor-De-Mis-Bodas
About the director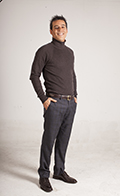 Adolfo Aguilar studied at the University of Lima, and participated in a theater workshop there. He also studied acting at the Taller de Talentos de América Producciones. Aguliar created the production company Big Bang Films with Sandro Ventura, Hugo Shinki, and Jesús Álvarez; credits include EL BUEN PEDRO (2012) and QUIZÁS MAÑANA (2013).
Credits
Producer: Sandro Ventura
Production Companies: Big Bang Films
Screenwriter: Sandro Ventura
Cinematographer: Gustavo Ríos
Editor: Sandro Ventura
Sound Design: Juan Torres Tapia
Music: Renzo Bravo
Cast: Maricarmen Marin, Gabriel Soto, Ricky Tosso, Attilia Boschetti
Print Source: Sandro Ventura, sandro@bigbang.pe