Vengo volviendo / Here and There
A film by Gabriel Páez, Isabel Rodas
This film was screened as a part of the 2017 Cine Las Americas International Film Festival (CLAIFF20)

[youtube https://www.youtube.com/watch?v=ugiQIHAgc3M&t=4s]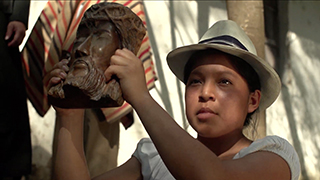 Ecuador, Drama/Folklore, 2015
103 min, Color
Spanish with English subtitles
Twenty-two-year-old Ismael only thinks about traveling to the US. He grows up under the love and care of his grandmother Mariana, midwife and ancestral healer, after his parents emigrated from Ecuador. After agreeing on a price with the coyote, his best friend Luz comes back after eight years of living abroad. She turns into the force that fills Ismael with doubts about his situation. The two friends travel to the depths of their province, and along the way meet various characters, stories and legends that will present Ismael with what he fears most: his own destiny.
Texas Premiere
www.filmarte.ec/eng-vengo-volviendo
About the director

Gabriel Páez has worked as first assistant director on DEFENSA 1464 and OPEN WOUND. HERE AND THERE is his second feature film as writer and director. He is executive producer of the project ENCOUNTERS WITH FILM, which offers free film workshops for rural communities. Isabel Rodas is the executive producer of Filmarte, where she produces and directs the project ENCOUNTERS WITH FILM, which has released two feature films, SANTA ELENA BUS and HERE AND THERE, as well as the documentaries SACACHÚN and AZUAYO.
Credits
Producer: Isabel Rodas, Gabriel Páez
Production Companies: Filmarte
Screenwriter: Gabriel Paez
Cinematographer: Manuel Suquilanda
Editor: Gabriel Paez, Vanessa Amores, Amaia Merino
Sound Design: Diego Rodríguez, Andrés Galarza
Music: Carlos Freire, Stalin Pacheco, Música Para Camaleones, La Locro Banda, Jaimito el Sanjuanero, Fabián Chokilla Durán
Cast: Juan Zumba, Carolina Lozada, Rosario Macas, Alex Cisneros, Doris Naula
Print Source: Sergio Garcí­a Locatelli, sergiogarcia@quechuafilms.com