Arábia / Araby
A film by João Dumans, Affonso Uchoa
This film was screened as a part of the 2018 Cine Las Americas International Film Festival (CLAIFF21)
This feature was preceded by the short film Polvo de estrellas (Stardust)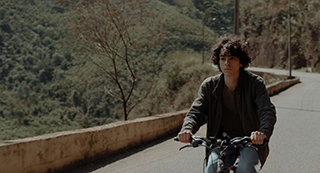 Brazil, Poetic Drama/Road Movie, 2017
98 min, Color
Portuguese with English subtitles
Andre, a teenager, lives in an industrial town in Brazil near an old aluminum factory. One day, a factory worker, Cristiano, suffers an accident. Asked to go to Cristiano's house to pick up clothes and documents, Andre stumbles on a notebook, and it's here that ARABY begins — or, rather, transforms. As Andre reads from the journal entries, we are plunged into Cristiano's life, into stories of his wanderings, adventures, and loves. Beautifully written and photographed, ARABY is a fable-like road movie about a young man who sets off on a ten-year journey in search of a better life.
Texas Premiere
About the director

João Dumans is a screenwriter and director based in Belo Horizonte, Brazil. He co-directed the medium-length documentary EVERYBODY HAS ITS OWN WAY (2014), wrote the feature film WHERE I GROW OLD (2016), and co-wrote and co-edited Uchoa's THE HIDDEN TIGER.
Affonso Uchoa is a filmmaker based in Contagem, Brazil. He wrote and directed the feature THE HIDDEN TIGER (2014). He also curated "Curta Circuito," a program dedicated mainly to the exhibition and discussion of rare Brazilian films from the 1960s, 1970s and 1980s.
Credits
Producer: Vitor Graize
Production Companies: Katásia Films, Vasto Mundo
Screenwriter: João Dumans, Affonso Uchoa
Cinematographer: Leonardo Feliciano
Editor: Rodrigo Lima, Luiz Pretti
Sound Design: Pedro Durães
Music: Francisco César
Cast: Murilo Caliari, Aristides de Sousa, Renata Cabral, Renan Rovida, Glaucia Vandeveld, Renato Novaes, Adriano Araújo, Wederson Neguinho
Print Source: Nick Newman – Grasshopper Film, nick@grasshopperfilm.com