Mala junta / Bad Influence
A film by Claudia Huaiquimilla
This film was screened as a part of the 2017 Cine Las Americas International Film Festival (CLAIFF20)
Chile, Drama, 2016
89 min, Color
Spanish, Mapudungun with English subtitles
Tano, a rebellious teenager from Santiago, is sent to southern Chile under the custody of his father whom he has not seen in years. Unhappy with the new arrangement, Tano meets Cheo, a shy boy who is bullied at school for his indigenous origins. The strange death of a Mapuche leader unleashes a spree of violence in the area, forcing Tano and Cheo to unite against their violent surroundings. MALA JUNTA is a reflection of the ongoing Mapuche conflict portrayed through the friendship and solidarity of two pure souls.
Regional Premiere
www.alphaviolet.com/mala-junta
About the director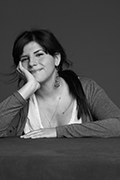 Claudia Huaiquimilla is a Chilean young woman of Mapuche origin. She studied Audiovisual Direction at the Catholic University of Chile. The recovery of her indigenous roots and childhood trauma are both themes she explores in her audiovisual work. She wrote and directed her first short film SAN JUAN, LA NOCHE MÁS LARGA in 2012, and her first feature MALA JUNTA was released in 2016; both are centered in Mapuche communities and their concerns.
Credits
Producer: Pablo Greene Flaten, Rebeca Gutierrez Campos, Eduardo Villalobos Pino
Production Companies: Lanza Verde, Pinda, Molotov Cine
Screenwriter: Claudia Huaiquimilla, Pablo Greene
Cinematographer: Matias Illanes
Editor: Valeria Hernandez
Sound Design: Carlos Collio, Diego Aguilar, Andrés Zelada
Music: Miranda Y Tobar
Cast: Andrew Bargsted, Francisco Pérez-Bannen, Eliseo Fernández, Francisca Gavilán, Ariel Mateluna, Sebastián Ayala, Rosa Ramírez, Alex Quevedo, Verónica Medel
Print Source: Virginie Devesa, info@alphaviolet.com