La Soledad
A film by Jorge Thielen Armand
This film was screened as a part of the 2017 Cine Las Americas International Film Festival (CLAIFF20)
[youtube https://www.youtube.com/watch?v=x68_ug47PSY]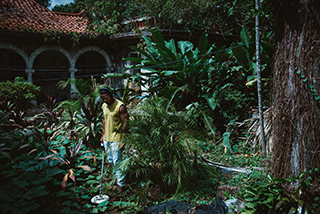 Venezuela, Drama/Docufiction, 2016
89 min, Color
Spanish with English subtitles
Already struggling to survive in the urban jungle of Caracas, José discovers that the decrepit mansion he occupies with his family will soon be demolished. Driven by a desire for a better life and guided by the ancestral spirits of the house, José embarks on a mystical search for a cache of gold that rumors say is buried in the walls of the mansion. This film is based on a true story and played by the actual subjects.
Regional Premiere
www.lafaenafilms.com/films/lasoledad
About the director

Jorge Thielen Armand is a Venezuelan director whose debut film LA SOLEDAD recently had its world premiere at the 73rd Venice International Film Festival. His documentary FLOR DE LA MAR won the Jury Award for Best Documentary Short at CLAIFF18 in 2015, and was screened at over 20 festivals around the world. Jorge holds a Communication Studies BA from Concordia University in Montreal, and is an alumni of the Venice Biennale College Program, the Hot Docs Accelerator and the RIDM Talent Lab. In 2015 he founded La Faena alongside Rodrigo Michelangeli.
Credits
Producer: Jorge Thielen Armand, Adriana Herrera, Rodrigo Michelangeli
Production Companies: La Faena
Screenwriter: Jorge Thielen Armand, Rodrigo Michelangeli
Cinematographer: Rodrigo Michelangeli
Editor: Felipe Guerrero
Sound Design: Eli Cohn
Cast: José Dolores López, Marley Alvillares, Adrializ López, María Agamez. Jorge Roque Thielen
Print Source: Rodrigo Michelangeli, rodrigo@lafaenafilms.com