Cine Las Americas and
Violet Crown Cinemas Present:
Lourdes Portillo Retrospective
Featuring 20th anniversary screening of Corpus: A Home Movie for Selena
With Richard Montoya of Columbus on Trial in attendance
This film  retrospective was screened as a part of the 2019 Cine Las Americas International Film Festival (CLAIFF22)
Vida || Columbus on Trial || Corpus: A Home Movie for Selena

In collaboration with Violet Crown Cinemas, Cine Las Americas presented a retrospective of work by acclaimed filmmaker and activist Lourdes Portillo. The selection included three works by Lourdes, each with its own style and concern, commemorative of significant moments in American history. The screening opened with the short drama VIDA (1989), a reflective film that was completed less than ten years after AIDS had emerged as a major health crisis in the USA. The comedy/satire COLUMBUS ON TRIAL (1992) resurrects Christopher Columbus 500 years after 1492, and interrogates him on his "discovery" of the New World. The retrospective closed with the medium-length experimental documentary CORPUS: A HOME MOVIE FOR SELENA (1999), 20 years after its release, and in memory of the inspirational Tejana whose life was ended tragically in 1995. While these films all reference tragedies, they each also speak to the strengths inherent in human nature to ultimately survive, thrive, and celebrate life.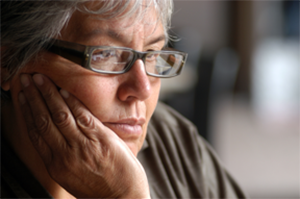 LOURDES PORTILLO. Born in Chihuahua, Mexico, and raised in Los Angeles, Lourdes Portillo has been making award-winning films about Latin American, Mexican, and Chicano/a experiences and social justice issues for nearly thirty years. Since her first film, AFTER THE EARTHQUAKE / DESPUÉS DEL TERRMOTO (1979), she has produced and directed over a dozen works that reveal her signature hybrid style as a visual artist, investigative journalist, and activist. Portillo's completed films include the Academy Award® and Emmy® Award nominated LAS MADRES: THE MOTHERS OF THE PLAZA DE MAYO (1986), LA OFRENDA: THE DAYS OF THE DEAD (1988), COLUMBUS ON TRIAL (1992), THE DEVIL NEVER SLEEPS (1994), CORPUS: A HOME MOVIE FOR SELENA (1999), MY McQUEEN (2004), and AL MÁS ALLÁ (2008). Her most recent feature-length film, SEÑORITA EXTRAVIADA (2001), a documentary about the disappearance and death of young women in Ciudad Juárez, Mexico, received a Special Jury Prize at the Sundance Film Festival, Best Documentary at the Havana International Film Festival, the Nestor Almendros Award at the Human Rights Watch Film Festival, and an Ariel from the Mexican Academy.
In 2016 Portillo continued her exploration of experimental film and format, creating the animated documentary short STATE OF GRACE (2016). In 2016 Portillo received the Anonymous Was a Woman Award and grant for her body of work, and in 2017 she was honored with the Career Achievement Award by The International Documentary Association (IDA). In 2019 Portillo continues to curate the Academy of Motion Picture Arts & Sciences' historic PACIFIC STANDARD TIME: LATIN AMERICA TO HOLLYWOOD: LATINO FILM CULTURE IN LOS ANGELES 1967-2017 ORAL HISTORY PROJECTS, which are oral histories/interviews with notable Latino, Latin American, and Chicano filmmakers, including Portillo herself. Portillo's films continue to be shown internationally and in the U.S. on TV, in cultural and film festivals, in museums, and at educational institutions. Portillo's website features information about her work and access to her films: www.lourdesportillo.com.
Lourdes Portillo Retrospective / Screening Order
Violet Crown.Thursday May 2nd, 8:00pm

Vida
Lourdes Portillo
USA, Drama/Melodrama, 1989
18 min, Color
English, Spanish with English subtitles

In this playful melodrama, a young Latina woman in New York struggles to come to terms with the dangers of AIDS. Commissioned by AIDSFilms in New York, VIDA encourages AIDS awareness and safe sex practices in the Latino community, particularly among young urban women.

Columbus on Trial
Lourdes Portillo
USA, Comedy/Satire/Performance Video, 1992
18 min, Color
English, Spanish with English subtitles

Inspired by the controversy surrounding the 500th anniversary of Christopher Columbus' "discovery" of America, Portillo fashions a fanciful version of a courtroom were Columbus to return from his grave to stand trial. Cross-examined by the Latino comedy group Culture Clash, Columbus is charged with atrocities against the Native peoples of the New World, including the rape and violent treatment of women. Satire and parody rule in this dynamic document about American history and colonization.

Corpus: A Home Movie for Selena
Lourdes Portillo
USA, Experimental Documentary/Homage, 1999
47 min, Color
English, Spanish with English subtitles

CORPUS: A HOME MOVIE FOR SELENA explores the mass adulation and explosive posthumous recognition of Selena Quintanilla, the Tejano rock singer murdered by the president of her fan club in 1995. Pushing beyond the mainstream media's fascination with her violent death, Lourdes Portillo interviews Selena's family and friends as well as the devoted fans who pilgrimage to Selena's grave in Corpus Christi, Texas, to pay homage to the slain star. Moving and provocative, this humble investigative portrait explores Selena's cultural significance as a pop icon and shines a light on the hopes, fantasies, fears, and realities of young Latinas today.
Print Source: Lourdes Portillo, lportillo@mac.com