Frágil equilibrio / Delicate Balance
A film by Guillermo García López
This film was screened as a part of the 2017 Cine Las Americas International Film Festival (CLAIFF20)
With producer Pedro Gónzales Kühn in Attendance

[youtube https://www.youtube.com/watch?v=ySH1muK99-g]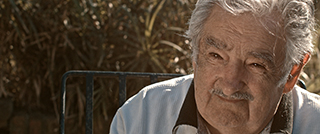 Spain/Uruguay/USA/Morocco/Mexico/Jordan/Japan/Hong Kong/Chile
Globalization/Social Issue Documentary, 2016
81 min, Color
Spanish, English, French, Japanese with English subtitles
FRÁGIL EQUILIBRIO is a journey across the world, highlighting our common dreams, hopes, and humanity. It focuses on three stories in Africa, Spain, and Japan, each of which addresses modern day issues. In Morocco, African immigrants try to cross over to Europe by climbing the fences that separate Morocco from Spain. In Spain, the economic collapse leaves citizens homeless, and in Japan, "salary-men" work themselves to death chasing after an unattainable "dream." The stories are tied together by the words of the former President of Uruguay, José "Pepe" Mujica, who gained notoriety on the world stage as a rare politician: one that lives according to the ideas and principles he preaches. His extensive interview, conducted while still in office, became the "blue print" for the documentary.
North American Premiere
About the director

Guillermo García López completed his Bachelor's of Audiovisual Communication while working as an editor at RTVE, a director at several commercial companies, and an assistant director in cinema. In 2013 he and two co-founders established the production company Sintagma Films. His first short film as producer, LA GRAN DESILUSIÓN, directed by Pedro González Kühn, was nominated for Best Documentary Short at the 2014 Goya Awards. His first feature film as director, FRÁGIL EQUILIBRIO, won the 2017 Goya Award for Best Feature Documentary.
Credits
Producer: Pedro Gónzales Kühn
Production Companies: Sintagma Films
Screenwriter: Guillermo García López
Cinematographer: Pablo Burmann
Editor: Guillermo García López, Victoria Lammers
Sound Design: José Luis Alcaine Bartolomé
Music: Zeltia Montes
Print Source: Sintagma Films, pedro@sintagmafilms.com; 3BoxMedia, lorenzo@3boxmedia.com