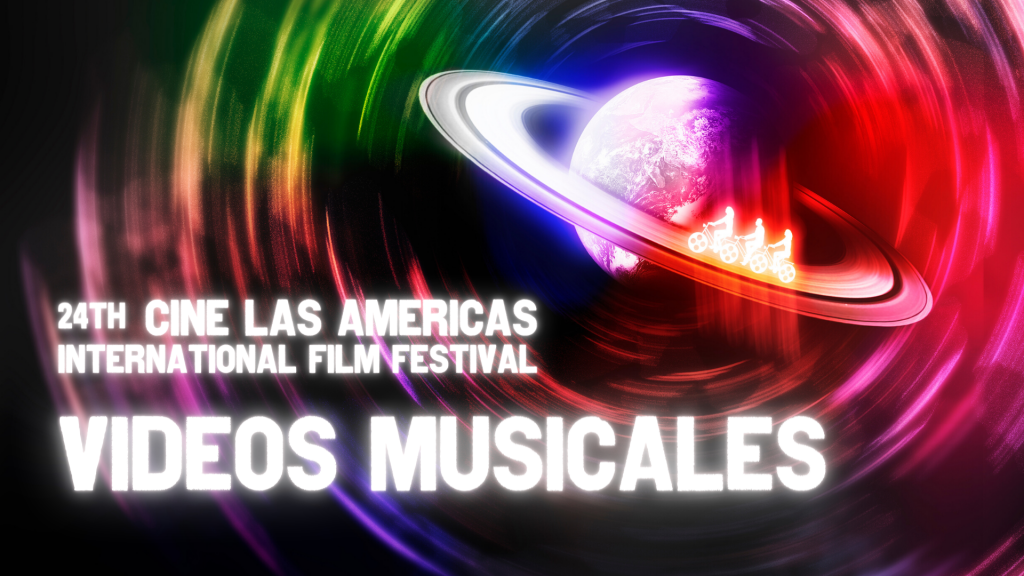 Videos Musicales
Cine Las Americas presents seven music videos in competition and eligible for an audience award for Best Music Video. Attend the event to cast your vote! The Videos Musicales showcase also features a selection of music videos curated by CLAIFF24 programmer, Maribel Falcón.
June 11 at 8-10pm, Nepantla, USA
Free & open to the public
Competition
"Danza de Sol"
Music by Los Cogelones
Directed by Estudio Pneuma/Miguel Jara, Celestial Brizuela
5 min, Animated Music Video, Mexico, 2020
Spanish, English subtitles
The Sun Dance, is a meaningful cultural ceremony and spiritual commitment for the Mexica and Lakota people. This significant practice is displayed through the Sun and its rays, the Great Mystery or message, and transformation of a dancer who becomes an eagle while dancing. The video correlates with Los Cogelones' goal to spread awareness and appreciation for Indigenous culture/groups.
"PQNMJ"
Music by Cyn Santana
Directed by Medhi Zollo
3 min, Music Video, United States, 2021
English, No subtitles
From reality TV household name to breakout recording artist, CYN SANTANA holds her Latin roots and her female activism to a high standard. Her single "PQNMJ" (So They Don't Mess with Me) is a powerful self-love anthem through which Cyn Santana asserts that it's better to be single than to be undervalued.
"Narcisa"
Music by Princesa Alba
Directed by Bernardo Quesney
6 min, Music Video, Pop, Chile, 2021
Spanish, Portuguese, No subtitles
It's the story of a princess tired of looking at herself, and of a goddess trapped within herself
"Nobody's Clown"
Music by Los Yesterdays
Directed by David Brocca
6 min, Music Video, United States, 2021
English, English subtitles
El Triste, "the saddest clown in LA," is heartbroken over his breakup with La Smiley, the love of his life who strung him along like a "puppet on a string". Now, El Triste who is struggling to move on, realizes he would have preferred being La Smiley's clown than 'Nobody's Clown' at all.
"María Parado de Bellido"
Music by Renata Flores
Directed by Mateo Llosa
3 min, Music Video, Peru, 2021
Quechua, Spanish, Spanish subtitles
In this video, we focus on the story and legacy of Maria Parado de Bellido, a martyr of Peru's war of independence. We set out to create a portrait of a heroine, aiming to capture her boldness in the face of adversity, her sacrifice for the cause of liberty, and her re-birth through a new generation of audacious, empowered women and men.
"Ta' que tiembla"
Music by Buscabulla
Directed by Oswaldo Colón Ortiz
3 min, Music Video, Puerto Rico, 2020
Spanish, No subtitles
Straight out of their vibrant and unique debut album, "Regresa" (2020), Buscabulla's 'Ta' que tiembla' finds both Raquel and Luis surviving in a post-apocalyptic Puerto Rico, where they escape, but eventually face off against its wild forces.
"Arre"
Music by Simpson Ahuevo
Directed by Hermann Neudert
3 min, Music Video, Rap, Hip-Hop, Mexico, 2020
Spanish, No subtitles
A love letter to Sonora from Simpson Ahuevo.
Non-competition
"Huracán"
Music by María José Montijo
Directed by Claudia Andrea Escobar
5 min, Music Video, Latin, Electric, United States, 2020
Spanish, No subtitles
Born out of the collective rage that Puerto Ricans on the island and in the diaspora grappled with in the aftermath of Hurricane María. "Huracán" is a riot of color and emotion that draws from imagery as diverse as Caribbean indigenous petroglyphs and the 2019 twerk protests in San Juan.
"Para Mi Gente"
Music by Nakury & Barzo
Directed by Isaac Centeno
4 min, Music Video, Costa Rica, 2020
Spanish, No subtitles
"Para Mi Gente" is a music video that pays tribute to the birth of Hip-Hop and how it was created by the multicultural communities of New York. The audiovisual, directed by Isaac Centeno, features the diverse talent of the breakin, voguing, locking, popping and dancehall scenes of Central America, portraying the vitality of the movement.
"El Amor de Mis Amores"
Music by Acid Coco
Directed by Gabriel Bonnefoy
4 min, Music Video, Colombia, 2020
Spanish, No subtitles
The second single from Acid Coco is a tragicomic champeta that captures the emotions and energies of a night out on Colombia's Caribbean coast.