Somos Lengua / Speaking Tongues
A film by Kyzza Terrazas
This film was screened as a part of the 2017 Cine Las Americas International Film Festival (CLAIFF20)
With special guest María Inés Roqué in Attendance
This film was presented as part of the Ambulante Showcase

[youtube https://www.youtube.com/watch?v=RnXxOeZDPVw]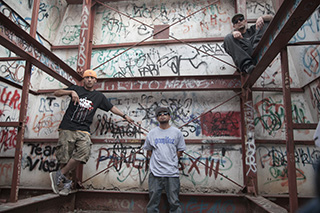 Mexico/Dominican Republic, Music/Artist Documentary, 2016
86 min, Color
Spanish with English subtitles
In various Mexican cities, the art of rap is practiced by a large number of youths who are completely committed to it — they live for rap and they are nourished by it. Who are these Mexican rappers? What do they find in that culture that society at large cannot offer to them? How have they been transformed through the intense relation they establish with words, with their own tongues, and with language? And, finally, how does this help them to survive in a country which offers no alternatives?
Austin Premiere
www.vientodelnortecine.com/somos-lengua
About the director

Kyzza Terrazas received his MFA in film from Columbia. He wrote the screenplay for DÉFICIT, directed by Gael García Bernal, and executive produced COCHOCHI and VOY A EXPLOTAR. His first feature, EL LENGUAJE DE LOS MACHETES, premiered in 2011 at Venice, was recognized with the New Horizons award at the Whistler IFF, and screened in competition at CLAIFF15 (2012). He currently has two films in development: BAYONETA and RADIO ETHIOPIA.
Credits
Producer: Carlos Sosa, Kyzza Terrazas, Laura Imperiale
Production Companies: Viento del Norte Cine
Screenwriter: Kyzza Terrazas
Cinematographer: Alberto Anaya Adalid, Israel Cárdenas
Editor: Yibrán Asuad, Miguel Musálem
Sound Design: Emilio Cortés, Alejandro de Icaza
Music: Dr. Zupreeme, Zaque, Jin Beast, Merer, Danny Brasco, Rokes
Cast: Giros, Tanke, Sipo, Aczino, Manotas, Vieja Guardia: Aztec 732, Mü, Dr. Zupreeme, Sepulturero, Mc Luka, Gogo Ras, Rabia Rivera, W Krónico y familia, Menuda Coincidencia, Tren Lokote y familia, Alemán, Charlot, DJ Bulla, Ximbo, Jezzy P, Dayra Fyah, Jin Beast, Merer, Jozué, Dignatarios, Sekreto, Mike Díaz, Lobo Estepario, DJ Cee, Dee, Mof, Juancer el Bastardo, Dabeat Ramírez, Keedam, Zaque, Tino el Pingüino, Neto Reyno, Dinastía Zapata, Serko Fu, Caballeros del Plan G, Tocadiscos Trez, Aczino y familia, Yoga Fire, Eptos Uno, Rojo Córdova, Van-T y su taller, Fyrez, C-Kan, Apolokos, Sick Morrison
Print Source: Carlos Sosa, carlos@lacasadelcine.mx