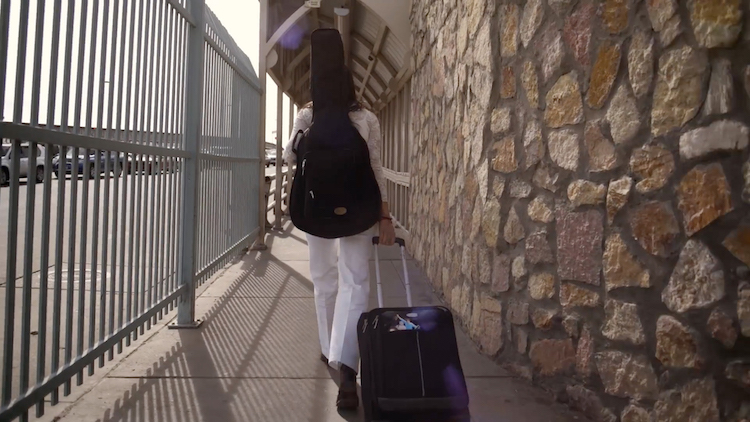 Dear Homeland
A film by Claudia Escobar
This film was screened as a part of the CLA2020 Virtual Showcase

[youtube https://www.youtube.com/watch?v=IetrE3luJJg]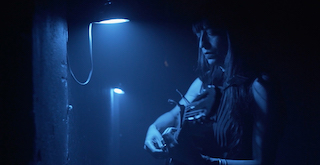 Mexico/United States, Immigration/Music/Portrait, 2020
58 min, Color
English, Spanish with English subtitles
DEAR HOMELAND tells the story of Mexican singer/songwriter Diana Gameros coming of age in the United States while finding her voice as an artist. Told in large part through her hauntingly beautiful music, her 20-year journey takes her from Ciudad Juárez to San Francisco, where we watch Diana assert herself not only as a musician, but as an immigrant and advocate for immigrant rights. Through music, she finds the courage to share her own story of being undocumented — channeling her fears and the weight of her separation from her family into powerful songs This lyrical and poetic film gives audiences a unique look into the challenges, aspirations and opportunities Diana experiences, providing a counter-narrative to the dehumanizing language that dominates present-day narratives about immigrants. DEAR HOMELAND is a deep reflection on family, resilience and what it means to call a place home.
www.dearhomelandfilm.com/english
Biofilmography

Claudia Escobar was born in Medellín, Colombia and has made short documentaries and experimental works for KQED Arts. She's been awarded and nominated for numerous Northern California Emmys. She's also directed, produced and edited short fiction films, fashion videos, stop-motion animations, and non-fiction journalism work for NBC, National Geographic, and The New York Times. Claudia has also designed zines, maps and posters, and has participated in art shows in San Francisco.
Credits
Producer: David Markus, Kelly Whalen
Production Company: KQED
Screenwriter: Claudia Escobar
Cinematographer: Claudia Escobar, Armando Aparicio, Kelly Whalen, Elie Khadra, Rachel Kim
Editor: Claudia Escobar, Tracey Quezada
Sound Design: Claudia, Escobar. Dan Olmstead
Music: Diana Gameros
Cast: Diana Gameros, Altagracia Estupiñan
Print Source: Lina Blanco, lblanco@kqed.org