El príncipe inca / The Inca Prince
A film by Ana María Hurtado
This film was screened as a part of the 2017 Cine Las Americas International Film Festival (CLAIFF20)
[youtube https://www.youtube.com/watch?v=V9WkyF6OhJ0&t=39s]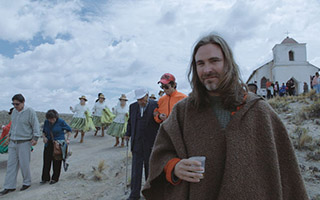 Chile/Bolivia, Biographical Documentary, 2016
82 min, Color
Spanish with English subtitles
A white man is looking for his Indian identity. Guided by old family tales transmitted by his mysterious late grandfather, Chilean artist Felipe Cusicanqui heads off on a journey to Bolivia to rescue ancient family legends linked to the Inca nobility. While in pilgrimage through the Andes mountain range – exploring the landscape, recovering stories from locals, looking at the way they live, farm, herd, weave, and look at the stars – Felipe experiences an adventure out of ordinary time, which finally leads him to connect with the true and hidden story of his grandfather and also guides him towards unexplored creative paths.
North American Premiere
About the director

Ana María Hurtado received her Journalism degree at the University of Chile. She has worked in media in various capacities since then. From 2005-2006, Hurtado studied a Master's in Global Journalism at the University of Orebro in Sweden, on a full scholarship from the Swedish Government. She released her first feature documentary PALESTINA AL SUR in 2011. EL PRÍNCIPE INCA is her most recent feature film.
Credits
Producer: Ana María Hurtado, Viviana Erpel
Production Companies: Antipoder Producciones
Screenwriter: Ana María Hurtado
Cinematographer: Mauricio García
Editor: Jorge Lozano
Sound Design: Mario Puerto
Music: Roberto Espinoza
Cast: Felipe Cusicanqui
Print Source: Ana María Hurtado, anamaria@antipoder.com