La tierra y la sombra / Land and Shade
A film by César Augusto Acevedo
This film was screened as a part of the 2017 Cine Las Americas International Film Festival (CLAIFF20)
This film was co-presented with the Austin Film Society


[youtube Trailer Coming Soon]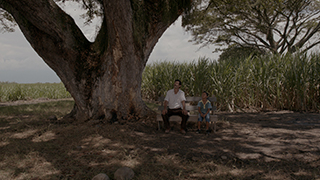 Colombia/France/Netherlands/Chile/Brazil, Drama, 2015
97 min, Color
Spanish with English subtitles
Alfonso is an old farmer who has returned home to tend to his son, who is gravely ill. He rediscovers his old house, where the woman who was once his wife still lives, with his daughter-in-law and grandson. The landscape that awaits him resembles a wasteland. Vast sugar cane plantations surround the house, producing perpetual clouds of ash. 17 years after abandoning them, Alfonso tries to fit back in and save his family.
Texas Premiere
www.facebook.com/latierraylasombra
About the director

César Augusto Acevedo, director and screenwriter, graduated with honors from the Universidad del Valle's School of Social Communications (Cali, Colombia) and the screenplay for LA TIERRA Y LA SOMBRA was his graduate thesis. The screenplay was supported by prestigious grants, and went on to become his first feature film. LA TIERRA Y LA SOMBRA premiered at the 2015 Cannes Festival's Critics' Week and has since gone on to additional accolades.
Credits
Producer: Diana Bustamante Escobar, Paola Andrea Pérez Nieto, Jorge Forero
Production Companies: Burning Blue
Screenwriter: César Augusto Acevedo García
Cinematographer: Mateo Guzmán
Editor: Miguel Schverdfinger
Sound Design: Roberto Espinoza
Cast: Haimer Leal, Hilda Ruiz, Marleyda Soto, Edison Raigosa, José Felipe Cárdenas
Print Source: Paul Hudson – Outsider Pictures, paul@outsiderpictures.us