El sonido de las cosas / The Sound of Things
A film by Ariel Escalante
This film was screened as a part of the 2017 Cine Las Americas International Film Festival (CLAIFF20)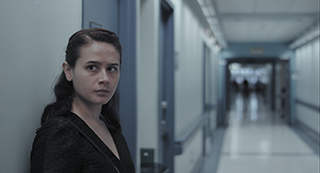 Costa Rica, Drama, 2016
78 min, Color
Spanish with English subtitles
Claudia loves being a nurse. Managing the adrenaline, controlling emotions, saving lives. At home everything is different: there's a room to clear out, and she needs to find a new roommate. Claudia is unable to deal with her cousin Sylvia's recent suicide, even though she is doing a great job of hiding it from people. Everything around Claudia reminds her of Sylvia, but she is unable to cry. When an old acquaintance comes back into her life with an illness and in need of her support, she will finally be forced to confront the weight of loss.
North American Premiere
www.facebook.com/ElSonidodelasCosas
About the director

Ariel Escalante was born in San Jose in 1984 and studied at the University of Costa Rica and EICTV in Cuba. He was selected for a Creative Residence at Concordia University (Canada), and received the Best Short Film Award at the Costa Rica International Film Festival for his films, MUSGO and A PARTIR DE AHORA SOLO NOSOTROS. His film THE SOUND OF THINGS won the Kommersant Weekend Prize at the 38th Moscow International Film Festival.
Credits
Producer: Mariana Murillo
Production Companies: Sputnik Films
Screenwriter: Enric Rufas, Ariel Escalante
Cinematographer: Nicolás Wong Díaz
Editor: Lorenzo Mora Salazar
Sound Design: Jonathan Macías
Music: Kalayawa
Cast: Liliana Biamonte, Fernando Bolaños, Claudia Barrionuevo, Ariel Escalante
Print Source: Mariana Murillo, marianamq@sputnikfilms.org