After the Crossfire: Memories of Violence and Displacement
A film by Ricardo A. Velasco T.
This film was screened as a part of the 2017 Cine Las Americas International Film Festival (CLAIFF20)
With director/producer Ricardo Velasco in Attendance
This film was presented as part of the Hecho en Tejas Shorts Showcase
[youtube Trailer Coming Soon]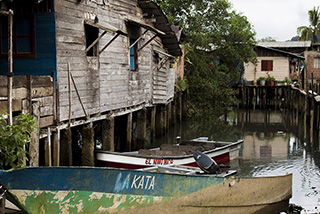 USA/Colombia, History/Social Issue Documentary, 2015
21 min, Color/Black & White
English, Spanish with English subtitles
AFTER THE CROSSFIRE documents the emergence and escalation of the armed conflict in Colombia's northern pacific coast during the 1990s, giving voice to victims who bear witness to the effects of war on the civil population of the region. Their testimonies open fundamental questions about trauma and its traces, the silence and invisibility in which displaced populations live, and the complex ethical and moral demands people face when impunity and oblivion prevail over justice and truth. Using archival footage of television news and testimonies of witness survivors, the film analyzes the processes contributing to the reproduction of violence against the civil population in Colombia.
Regional Premiere
Credits
Print Source: Ricardo A. Velasco T., ricardovelasco@gmail.com