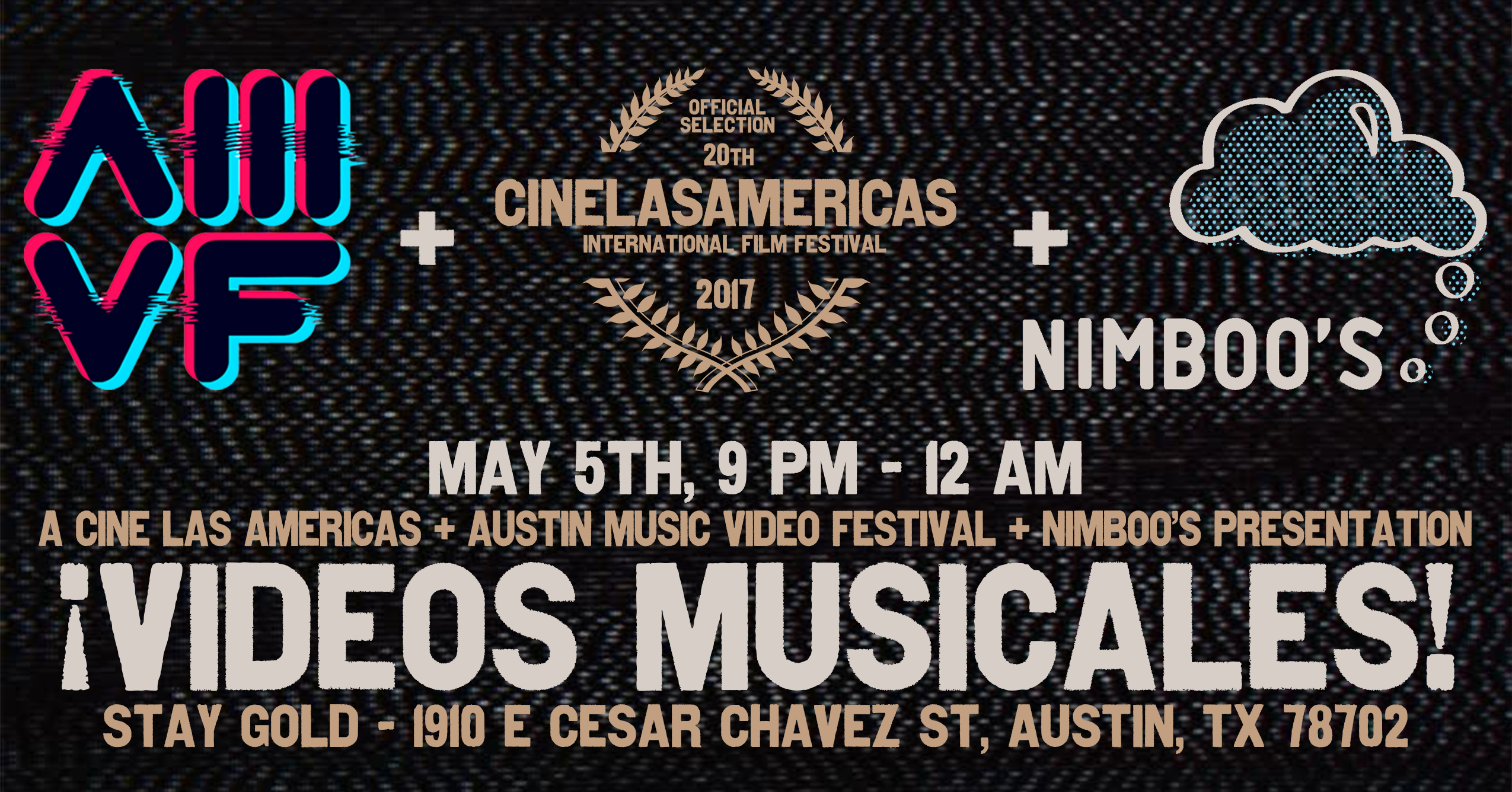 9:00pm Doors
10:00pm CLAIFF + AMVF Co-presented Videos
10:30pm CLAIFF Music Videos in Competition
11:00pm CLAIFF + Nimboo's Co-presented Videos
FREE and Open to the Public
CLAIFF + AMVF Co-presented Videos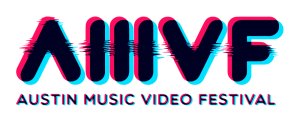 The Austin Music Video Festival (AMVFEST) celebrates music videos from across the globe, as well as our city's longstanding music video heritage, showcasing both classic and cutting edge work. Austin's film and music scenes draw global attention- our mission is to unite these industries, showcase the range of talent in our creative community and provide a platform to display their work, and the work of artists around the world to an engaged public.
Feed the Vultures
Teresa Jolie
Music by: SINE
4 min, Color, USA, 2016
English

www.sine.band

Print Source: Rona Rougeheart, contact@sine.band
Folk Zero
Zachary T. Scott
Music by: Go Fever
4 min, Color, USA, 2017
English

www.vimeo.com/user15487917

Print Source: Zachary T. Scott, zackundeadfighter@gmail.com
Fresco
Priscilla Villegas
Music by: Sertified
4 min, Color, USA, 2016
English

www.phmprod.com

Print Source: Priscilla Villegas, powerhousetv@gmail.com
La China
Jorge Gonzalez Camarena
Music by: Porter
5 min, Color, Mexico, 2016
Spanish

www.facebook.com/UnlimitedFilmsGdl

Print Source: Jorge G. Camarena, jorge@unlimitedfilms.com
Sombras
Alliah Fafin
Music by: Mamselle Ruiz
5 min, Color, Canada, 2015
Spanish

www.alliahproductions.com

Print Source: Alliah Fafin, alliahproductions@gmail.com
Wait
Diego Lozano
Music by: The Digital Wild
4 min, Color, USA, 2017
English

www.Diegolozano.net

Print Source: Diego Lozano, diego@diegolozano.net
CLAIFF Music Videos in Competition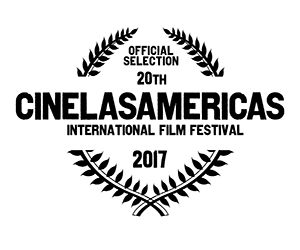 Cine Las Americas presents five music videos in competition, eligible for an audience award for Best Music Video. Attend and Vote!
Cross Paths
Syd Goin
Music by: Phony Ppl
5 min, Color, USA, 2016
English

Two women fall in love from across the street. One day they finally decide to cross paths and meet.

World Premiere

www.facebook.com/Phonyppl

Print Source: Syd Goin, miori.chan.sg@gmail.com
Heavy Balloon
Vanessa Pla
Music by: Tele Novella
4 min, Color, USA, 2016
English

A teenage girl dreams of an intergalactic cocktail party where Carl Sagan is the host, Tele Novella is the band, and Chewbacca almost steals the show.

Texas Premiere

www.telenovella.bandcamp.com

Print Source: Vanessa Pla, cosmicreelpictures@gmail.com
Kawanga
Peter Monahan
Music by: Los Straitjackets
3 min, Color, USA, 2015
English

Los Straitjackets' song KAWANGA is interpreted for their karaoke contest by an eclectic collection of amateur performers ranging from kids to octogenarians, from punks to calaveras. This music video won the grand prize for the Los Straitjackets competition.

Regional Premiere

www.straitjackets.com

Print Source: Peter Monahan, sr_matanza@hotmail.com
Quemayama
Javier Garcia
Music by: Patricio Hidalgo
9 min, Color, Mexico, 2016
Spanish

The traditional music of Veracruz, Mexico, from its origins. Patricio Hidalgo and Afrojarocho enter the mountains of southern Mexico accompanied by traditional instruments and rare natural landscapes.

North American Premiere

www.Sacbeproducciones.com

Print Source: Javier Garcia – SacBe Producciones, Javier.garcia@sacbeproducciones.com
Zuka Vlast
Sergio Candanedo, Carlos Guijarro
Music by: Spin Te Kú
4 min, Color, Spain, 2016
Spanish

A little kid is attracted to the loft of her old house by strange noises. What she finds there will change her forever.

North American Premiere

www.facebook.com/spinteku

Print Source: Promofest, distribucion@promofest.org
CLAIFF + Nimboo's Co-presented Videos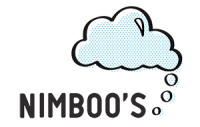 Nimboo's is a production company based in São Paulo, Brazil. With music being a strong part of its DNA, the company started producing documentary music series and comedy sketches for MTV Brazil. Nimboo's also released several music videos and music documentaries, including the feature GRU-PDX – opening film in the Portland Film Festival. In the fiction department, it produced several shorts, including TENNIS GIRL which screened in Slamdance, Rotterdam, BFI London and over 40 festivals worldwide and coproduced the feature horror/comedy 2013 MINUS 1. Nimboo's is currently in production of the fiction feature entitled BONNIE BONITA to be released late 2017.
En Route to Rio (For You, The Moon)
Daniel Barosa, José Menezes
Music by: NavesHarris
4 min, Color, Brazil, 2016
Portuguese

www.navesharris.com

Print Source: Nikolas Maciel, contato@nimboos.com.br
Orlando
Daniel Barosa, José Menezes
Music by: Quarto Negro
3 min, Black & White, Brazil, 2015
Portuguese

www.facebook.com/quartonegro

Print Source: Nikolas Maciel, contato@nimboos.com.br
Rio do Tempo (River of Time)
Daniel Barosa, José Menezes
Music by: Apeles
3 min, Color, Brazil, 2017
Portuguese

www.facebook.com/apelesmusic

Print Source: Nikolas Maciel, contato@nimboos.com.br
Sozinho contra Todos (Alone Against the World)
José Menezes, Daniel Barosa, Andre Dip
Music by: Atalhos
7 min, Color, Brazil, 2016
Portuguese

www.atalhosbanda.com

Print Source: Nikolas Maciel, contato@nimboos.com.br
Vou Me Mudar pro Uruguai (I'm Moving to Uruguay)
José Menezes, Daniel Barosa
Music by: Guri Assis Brasil
5 min, Color, Brazil/Uruguay, 2016
Portuguese

www.guriassisbrasil.com.br

Print Source: Nikolas Maciel, contato@nimboos.com.br