Cine Las Americas and
Señorita Cinema Present:
Señorita Cinema Roadshow
4:00pm, Sunday, May 8th, 2016
Salvage Vanguard Theater
Cine Las Americas presents a special selection of ten Latina-directed short films curated by Señorita Cinema, an all Latina film festival based in Houston, Texas. Their roadshow selection showcases the best and most diverse of the last five editions of the festival, and aims to show the rich tapestry of different voices, styles, and ideas unique to the Latina experience.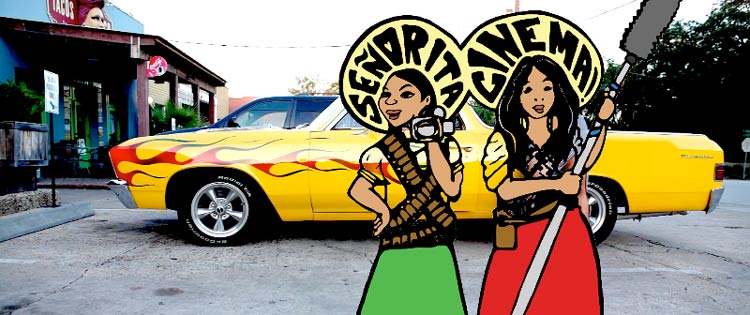 SEÑORITA CINEMA. La Chicana Laundry Pictures founder and filmmaker Stephanie Saint Sanchez was inspired to start Señorita Cinema by REAL WOMEN HAVE CURVES filmmaker Josefina Lopez's Boyle Heights Latina Independent Film Extravaganza. Saint Sanchez screened her film THE LEGEND OF LA LLORONA at the festival in 2007 and was so encouraged by the experience, she decided to launch a similar event in Houston. "That festival saved my life. There was something about that feeling of empowerment of Latinas taking control of their own filmmaking visions. I felt like I was a young punk seeing my first Ramones show at CBGB in its heyday. Like something big was happening and that we Latina filmmakers were the future architects of an important chapter in film history. For me Señorita Cinema is a continuation of that promise. We held our first festival over a weekend at The Lawndale Art Center with entries from all over with an attendance of about 50. Since then we have kept it going through the help and hard work of friends, colleagues, and film-lovers." Five festivals later Señorita Cinema was honored to receive the Houston Press Best Arts Festival Award for 2015. While held in Houston, Señorita Cinema has included artists' stories and visions from locations such as Austin, Los Angeles, Arizona, New York, Chicago, and beyond. This year marks the launch of The Señorita Cinema Best of Super Shorts Road Show, which is a traveling program.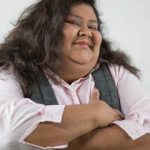 SPECIAL GUEST STEPHANIE SAINT SANCHEZ was raised in the small town of Beaumont, Texas where her imagination was encouraged and thrived. As founder of La Chicana Laundry Pictures, an Interdisciplinary Arts collective, she has written, produced and directed over 25 award-winning genre splitting shorts, multi-media installations, live performances, Art Cars, objects del arte and trouble, based on the images, sounds and psychoses in her surroundings both real and imagined. She is also the founder of Texas' only all Latina film festival Señorita Cinema Film Festival. She is a recipient of a S.W.A.M.P. Emerging Filmmakers Fellowship, The Idea Fund, and Lawndale Artist Studio Program.
www.lachicanalaundrypictures.com
Señorita Cinema Roadshow
The Salvage Vanguard Theater, Sunday May 8th, 4pm
A Few Hundred Blows

Iris Almaraz
USA, Comedy, 2006
11 min, Color
English

Life can be lonely for a misfit who never had a chance to pop a pretty girl's bubble, but in this twisted tale, we must see the sweet desire to enter a sticky world where you never know how it will wad up.

House Cleaning

Julia Camara
USA, Comedy, 2012
6 min, Color
English

HOUSE CLEANING is a comedy short about a lonely woman who answers an ad on craigslist for a nude house cleaner. When he actually shows up, she gets more than she bargained for.

Mis quince

Brenda Cruz-Wolf
USA, Experimental Documentary, 2014
12 min, Color/Black & White
English, Spanish with English subtitles

MIS QUINCE is an experimental documentary reliving the traditional past of a girl coming of age.

OK Hello This Is Michael

Jessica Leza
USA, Hand Drawn Animation, 2007
1 min, Color
English

With music performed by Jessica Leza, Brando Starkweather, Jon Barber, OK HELLO THIS IS MICHAEL is an experimental, animated music video.

Paradise Exhaust

Stephanie Saint Sanchez
USA, Cosmic Comedy, 2015
11 min, Color
English

Alex is unemployed, unmotivated and ripe for a cosmic intervention. It's a good thing there are groceries in the fridge… or is it?

Possessed by the Beat

Rachel Estrada
USA, Music Video, 2011
6 min, Color/Black & White
English

A 20's period piece inspired by Joan Crawford's OUR DANCING DAUGHTERS fused with multimedia artist Max Xandaux's latest music single "Possessed by the Beat," with music produced by one of Houston's brightest producers, Black Cat.

Short Stop

Fanny Veliz, Risa Machuca
USA, Comedy, 2006
18 min, Color/Black & White
English with Spanish subtitles

Two women find out they're not so different after all when they discover they are both in love with the same man. They confront each other as they reflect on the decisions they make… all in the front seat of a car.

The Moon Song of Assassination

Dolissa Medina
USA, Experimental Documentary, 2010
7 min, Color
English

THE MOON SONG OF ASSASSINATION is a "docu-legend" about Tex-Mex singer Selena Quintanilla, who in 1995 at the brink of crossover success, was shot and killed by the president of her fan club, and subsequently became a Mexican-American pop cultural icon.

Through the Water

Tonantzin Canestaro-Garcia
USA, Experimental, 2004
6 min, Color
English

THROUGH THE WATER is a video poem dedicated to the Aztec Goddess of Water, Chalchiuhticue, who inhabits all water.

Toñita se va de la casa | Toñita Runs Away

Terri Carson
USA, Creepy Comedy, 2012
6 min, Black & White
English

After being scolded one too many times, mischievous Toñita runs away from home. While on the road, she meets another little girl. Together they embark on a frolic through the Mexican countryside. On their way to the rodeo, their fun is interrupted by a gang of bullies and what looks like a covered corpse in the middle of the road.