Mi sangre enarbolada / A Family Love Story
A film by Luis Palomino
This film was screened as a part of the 2017 Cine Las Americas International Film Festival (CLAIFF20)
[youtube https://www.youtube.com/watch?v=c_xwx7CR2cg]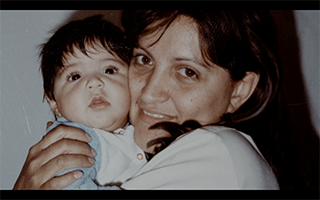 Mexico, Biographical Documentary, 2016
61 min, Color/Black & White
Spanish with English subtitles
Oblivion is our biggest fear and cinema has the capacity to bring back to life those people whom we've captured on film. My mother and my uncle passed away in an extraordinary way that symbolized true friendship and the love between siblings. Their passing was the most important thing that ever happened in my life, and I keep the story as a treasure. When my nephew was born, I knew that I needed to make it into a film, so that he could get to know his ancestors and the magic and poetry that existed between them.
Regional Premiere
www.facebook.com/misangrenarbolada
About the director
Luis Palomino was born in Mexico City and graduated as a director from the Centro de Capacitación Cinematográfica. His short film THE LAST VEIL was released in 2013 and screened at the 2014 Critics' Week in Cannes. The film prefaces his feature documentary MI SANGRE ENARBOLADA. He currently lives in Bangkok, Thailand, where he is making a series of documentaries on wildlife crime and human rights issues.
Credits
Producer: Patricia Benítez Muro
Production Companies: Centro de Capacitación Cinematográfica A.C.
Screenwriter: Luis Palomino
Cinematographer: Daniel Vidaurri
Editor: Molly Ferrill, Smithi Skunnawat
Sound Design: Christian Giraud
Music: Eduardo Gamboa
Cast: Ana Benítez Muro, José Benítez Muro, Ana Muro Merino, Patricia Benítez Muro, David Palomino Serrano, Jorge Palomino Benítez, Carlos Narro Robles, Maricarmen Junio, David Martin del Campo
Print Source: Centro de Capacitación Cinematográfica A.C., divulgacion@elccc.com.mx