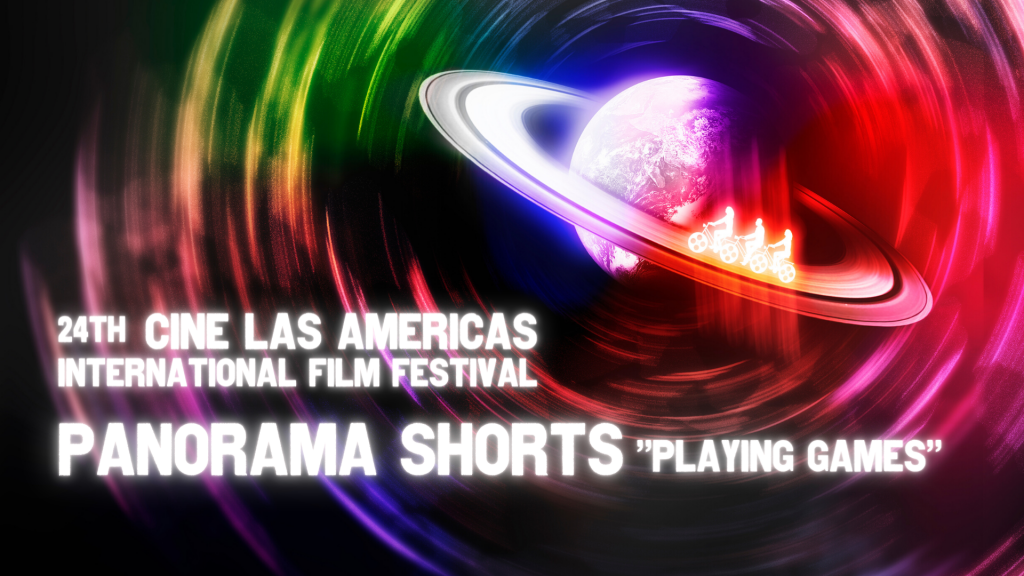 Panorama Shorts "Playing Games"
Free & open to the public
June 11, 2022 at 6pm, ESB-MACC
Los Patines // The Roller Skates 
A film by Loren Escandon
United States, 2021
Drama
8 min, Color
Spanish, English subtitles
Regional Premiere
Forced to be a servant to a white woman, an Afro-Colombian orphaned girl dreams of freedom, a normal childhood, and a pair of roller skates.
Loren Escandon is an AfroLatinx Colombian actress and filmmaker award-winner. She is an Alum of Warner Media and HFPA Tomorrow's Filmmaker's Today 2021. Her short film Los Patines won Best short at San Pedro International Film Festival, Best Director at NYC Downtown Short Film Festival, and Best Screenplay at the Panamanian International Film Festival/LA, among others. As actress Loren's recent work includes Purple Hearts for Netflix and Casa Grande for Warned Bros.
Estrellas del desierto // Desert Lights
A film by Katherina Harder Sacre
Chile, 2021
Drama, Environment, Childhood
19 min, Color
Spanish, English subtitles
Regional Premiere
In the middle of the Atacama desert, Antay (12) sees his town disappearing due to droughts and neglect. Alongside his friends Inti (12) and Ayelén (11) and the football team they have formed, they will try to hang on to the last sunrays, their childhood fragments, and the ties with those who still resist.
Katherina Harder Sacre is a Chilean filmmaker with a Master's in Film Directing from Barcelona. Co-Founder and Director of Iquique International Film Festival and International Film Festival of the Older Adults of Barcelona. Director of the TV series "4thgrade" and the award-winning short films, "Memorias del viento" (2011) and "Escamas" (2020). Co-founder & Co-Director of Volcánica Films in Chile. She is currently developing her feature film, a TV series, and other projects in Chile and Spain.
La Última Pieza // Puzzle
A film by Ricardo Muñoz Senior
Venezuela, Mexico, Argentina, 2021
Comedy, Drama, Fantasy
15 min, Color
Spanish, English subtitles
Texas Premiere
Albertini, a working-class civilian, lives in a society ruled by a totalitarian regime that supplies everything to the people, even the board games. Frustrated, after receiving incomplete puzzles several times, Albertini decides to submit a complaint to find a solution to his problem.
Actor, filmmaker. Ricardo Muñoz Senior was born in Caracas, Venezuela on March 21, 1989. He began with acting studios at the Metropolitan University of Caracas and immediately started his scenic arts career at Karl Hoffman's CICA International, which he graduated from in 2012. In 2016, he moved to Mexico City where, besides his acting career, started writing and with independent productions. PUZZLE is the first fiction film he writes, directs, produces, and stars in. In the meantime, Ricardo is still working as an actor in several productions and developing two feature screenplay projects.
Wuitina Numiá // Daughters of Courage
A film by Rita de Cácia Oenning da Silva, Kurt Shaw
Brazil, 2021
Children's Adventure
20 min, Color
Yepá-Masã (Tukano, an indigenous language of the Amazon) and Portuguese, English, Spanish, Portuguese, French, Hindi, Chinese subtitles
Regional Premiere
When a wildcat miner invades a Tukano Indian village in the Amazon, only an ancient shaman and three girls can defend their jungle and their future.
Rita de Cácia Oenning da Silva was born in a peasant family that lost its land during the dictatorship, but she made her way to university on scholarship. She then worked as an actress and earned her PhD in Anthropology.
Kurt Shaw studied at Harvard before moving to Latin America to organize the world's largest network of organizations working with marginalized children. They have produced more than a dozen films and won the 2016 United Nations Intercultural Innovation Award.
Las Infantas // The Infantas
A film by Andrea Herrera Catalá
Spain, 2021
Coming of Age, Drama
14 min, Color
Spanish, English subtitles
US Premiere
A preteen of Dominican origin is ready to fight for the first time when her mother forces her to be the princess in a carnival float.
Born into a family of producers, Andrea Herrera Catalá started her field training on a film set at the age of 15. Her first feature, NENA, SAY HI TO DIEGO, became a blockbuster in her country with a 15-week run in cinemas. In 2014, Andrea settled in Spain and later founded Amor & Lujo with producer and screenwriter Almudena Monzú; together they work on both fiction and documentary projects. Andrea is a Berlinale Talents, Rotterdam Lab and EAVE Puentes alumni.
Rómulo
A film by Emilio González
Spain, 2022
Comedy
11 min, Color
Spanish, English subtitles
North American Premiere
After a bad breakup, Romulo takes us through all of his past relationships.
Emilio González (he, him, his) began his training in the audiovisual field at the CIFP César Manrique, in the Canary Islands in 2016. Since then, he has created a dozen short fiction films that have been part of different national festivals. He has alternated his career between editing and camera operator positions, thus remaining linked to the audiovisual scene in all its facets.
Abuela Dalí
A film by Vega Halen, Saul Gonzalez
Spain, 2022
Comedy
11 min, Color
Spanish, English subtitles
World Premiere
Four women in a wedding wardrobe make the Ouija in order to prove that the family's grandmother was Salvador Dalí.
Graduated in Audiovisual Communication, Vega Halen currently works as a teacher of Audiovisual Language and Video Editing at CEV School in Madrid. She also works as a Freelance Photographer and Videographer. She wrote and directed "La Santa", her first short film, which obtained several selections at festivals and won the Alice Guy prize at the Marató De Cinema Fantàstic y Terror de Sants (Barcelona). Her latest project is the short film "Abuela Dalí" shot in 2021.