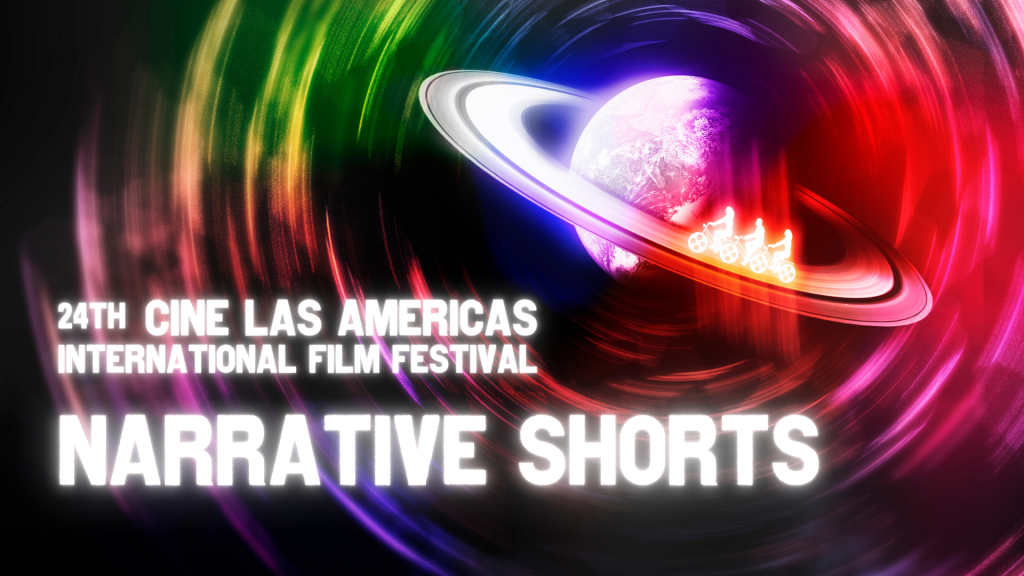 Narrative Shorts Competition
The films may be short in length but not in scope. From the deeply personal to the broadly universal, each film tackles subjects and tells stories that will resonate with viewers long after their runtime ends. These films are eligible for Jury and Audience Awards.
Free & open to the public
June 12, 2022 at 3pm, ESB-MACC
Filmmaker Q&A to follow the screening
Chão de Fábrica // Lunch Break
A film by Nina Kopko
Brazil, 2021
Drama
25 min, Color
Portuguese, English subtitles
Regional Premiere
1979. Four female workers have their lunch break inside the ladies' room, at a metallurgical factory. Between laughs and scuffles, each one has a secret of their own.
Karina Kopko, is a director, acting coach, and screenwriter. She was the assistant director of the feature "The Invisible Life" (Un Certain Regard award, Cannes Film Festival 2019) and of the "The Silence of the Sky" (Special Jury Prize at Gramado Film Festival 2016).

Teo // Theo
A film by Eduardo Bunster, Belén Abarza
Chile, 2021
Sci Fi, Fantasy
18 min, Color
Spanish, English subtitles
Texas Premiere
A couple goes to design their first child at a gene-editing clinic, hoping that the kid will have the successful and happy life that has eluded them.
Eduardo Bunster (Santiago, CHILE, 1980) Chilean director and cinematographer, has ventured into fiction film, documentary, stop-motion animation, and video art. He has carried out projects in different regions of the world, enriching his vision through interaction with diverse cultures and narratives. His short film "D-construir" (best short film at Sydney Fantastic Film Festival and Festival Cine B Santiago), his diptych of short documentaries "Inner Landscapes," and his collaborations as cinematographer with prominent Chilean film directors stand out. Co-founder and partner of the production company Quijote Films between 2009 and 2016, today he works as an independent filmmaker.
Belén Azarza (Santiago, CHILE, 1986) Theater director, set designer, and illuminator. She has participated in more than 50 plays, dance, and performing arts, as a stage designer with various Chilean theater companies, collaborating with prominent national directors. She has been recognized for her work in Prague Cuadrienale PQ2007; Victor Jara Dramatic Festival; New Directors Festival; American Dramatic Festival, and Queen's Festival. Her incursion into cinema starts with her co-direction of the short film "Theo".
Imposible Decirte Adiós // Attached
A film by Yolanda Centeno
Spain, 2021
Drama
15 min, Color
Spanish, English subtitles
Regional Premiere
When Paula´s painful breakup with Raúl causes her to stop seeing his son Dani, Paula will have no choice but to challenge a hypocritical legal system that ignores the custody rights of a loving, non-biological parent.
Yolanda Centeno was picked by an organization that sponsors new creative talents in Spain and was granted a scholarship to study a Master of Fine Arts in New York and Los Angeles (Universal Studio Campus). Her thesis film, ZUGZWANG was selected in more than 300 film festivals around the world. She's been selected by CIMA IMPULSA; a CIMA, Netflix, and ICAA- sponsored program supporting female directors. She is currently developing her first feature, TRAS EL VERANO.
Nosotros: las bestias. // We: the beasts.
A film by Marcelo Landaeta
Bolivia, 2021
Thriller, Drama
14 min, Color
Spanish, English subtitles
Regional Premiere
In the 1980s, Bolivia is recovering from the military dictatorships that took over the country. Franco, a little boy, starts a friendship with the strange man his mother keeps locked up in their basement. Thinking that he is his father, he tries to free him, finding out truths that he cannot understand.
Marcelo Landaeta is an Aimara filmmaker, his work consists of two short films: "El hijo del difunto" and "Nosotros: las bestias" which have been screened in more than 70 film festivals in 30 countries. He is currently developing his debut film "Familia", a co-production Bolivia – Chile – Argentina and Ecuador.
País Improvisto // Unintended Country
A film by Alfredo Hueck
Venezuela, 2022
Drama, Satire, Fantasy
16 min, Color
Spanish, English subtitles
World Premiere
An absurd show of improvising clowns tests the patience of an increasingly exhausted audience. Any overlap with politics… it's not improvised at all.
Alfredo Hueck is a Venezuelan filmmaker based in the USA. In 2005, Alfredo made his entrance into cinema with his first fiction short film YBI-173, awarded several prizes such as Best Latin American Short Film in Spain at the TVE Spanish Version competition. His second short, ENAMORATE (FALL IN LOVE), got a Special Jury Mention at the Brussels International Film Festival. In 2015, his debut feature PACKAGE #3 premiered, acclaimed by Venezuelan critics.