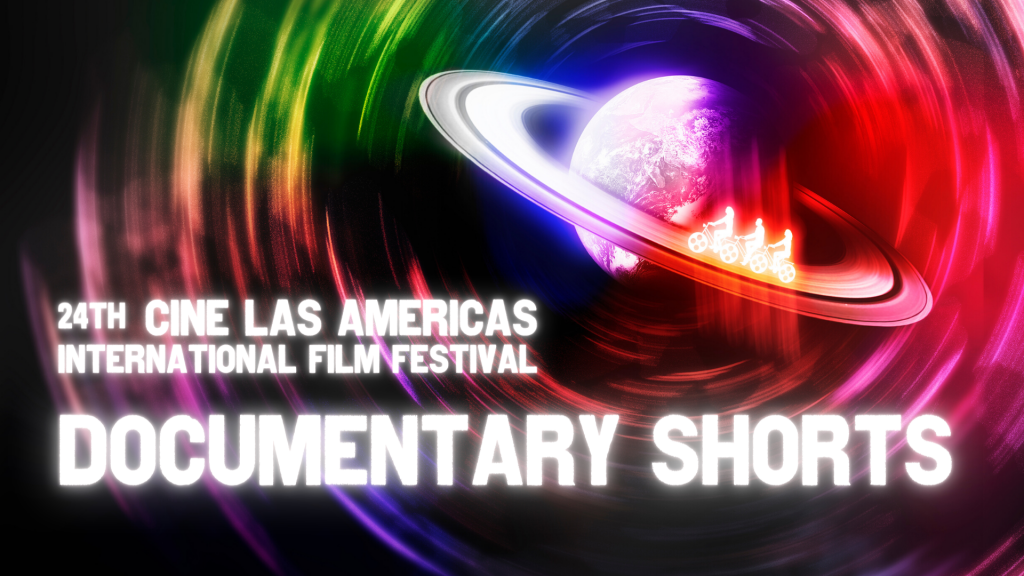 Documentary Shorts Competition
The films may be short in length but not in scope. From the deeply personal to the broadly universal, each film tackles subjects and tells stories that will resonate with viewers long after their runtime ends. These films are eligible for Jury and Audience Awards.
Free & open to the public
June 12, 2022 at 12pm, ESB-MACC
Golpe de Vida // Punch of Life 
A film by Luís Alejandro Rodríguez, Andrés Eduardo Rodríguez
Venezuela, 2021
Documentary
25 min, Black & White
Spanish, English subtitles
Regional Premiere
Former boxer Gregory Canelón has a high commitment and dedication to the demanding task of training a diverse group of boys and girls from the most populous communities of the city of Caracas, and in the arduous discipline of boxing. The lives, fears, and hopes of his young students are woven to portray Gregory's intimate struggle to achieve redemption, heal the traumas of the past, and overcome the uncertainty that the future holds for all.
Luis and Andrés Rodriguez are Venezuelan Directors, screenwriters, cameramen and photographers with more than twenty years of experience in features, featurettes, and shorts in Fiction and Documentary. Their audiovisual works have been worthy of several international recognitions and awards and they have participated in festivals such as Moscow, Cairo; Mar del Plata, Havana, among others.
Imalirijit  
A film by Vincent L'Hérault, Tim Anaviapik Soucie
Canada, 2022
Documentary
28 min, Color
English, Inuktitut, English subtitles
US Premiere
The inspired journey of a young Inuit community researcher.
Vincent L'Herault is a Ph.D. biologist and director at ArctiConnexion. He works in Nunavut with Inuit communities and several hundreds of hunters and fishermen. Throughout his work, Vincent uses video production. Committed artist and scientist, he was granted several provincial and national prizes.
Tim Anaviapik Soucie was born in Iqaluit and moved to Pond Inlet in 2010 years ago seeking a more traditional environment where he could raise his two daughters with his fiancée. Tim graduated from the Environmental Technology Program in Pond Inlet in 2012 and became a local Hamlet councilor shortly afterward. In 2014, Tim started his own research program on water quality in the community of Pond Inlet and ran the project until 2018. In 2021, he was hired by Qikiktani Inuit Association as Water Specialist. In 2014, Tim was awarded the Canadian Council of the Federation's Water Stewardship Award.
Bonita // Beautiful
A film by Mariana França de Lima
Brazil, 2021
Documentary
25 min, Color/Black & White
Portuguese; English subtitles
North American Premiere
The documentary presents the experiences of three black women from different generations who are or have been crossed by the same feeling: the loneliness and solitude of black women.
Mariana França is an actress, director, and cultural producer. She started in the theater more than 20 years ago, passing through circus language and then the audiovisual when she graduated from CAV – Audiovisual Center of São Bernardo do Campo. Her first production as a director was on the documentary "Clausura" (2017), about depression in the creative process of artists. The short film won at national and international festivals.
Cuban American Gothic
A film by Maria Teresa Rodriguez
United States, 2022
Hybrid Documentary
17 min, Color
English, Spanish; English subtitles
Regional Premiere
CUBAN AMERICAN GOTHIC is the comic and slightly surreal story of Maggie, who is living alone in New York City during the early 2020 pandemic. When her Cuban parents return from the dead to help, they remind her of their immigrant journey and that they have given her everything she needs to meet the moment.
María Teresa Rodríguez' work often explores the intersection between family, memory, history, and identity. Her award-winning films include the ITVS, LPB, and Sundance funded "Niños de la Memoria/Children of Memory" (2013, broadcast premiere: Global Voices, World Channel); "Mirror Dance" (2005, broadcast premiere: Independent Lens, PBS); "Becoming American" for the series Unnatural Causes produced by California Newsreel/Vital Pictures (2008, PBS broadcast premiere) and "From Here to There/ De Aquí a Allá" (1998, broadcast premiere: WGBH, La Plaza).
La pantalla andina // The Andean Screen
A film by Carmina Balaguer
Spain, Argentina, 2021
Documentary
49 min, Color
Spanish; English subtitles
North American Premiere
A teacher leads a mobile cinema crew to the most isolated school in the Jujuy Andes, Argentina. An ethnographic portrait of both the educational values in the high-altitude worlds and the paradigm shift headed up by the women of the valleys.
Carmina Balaguer (Barcelona). From very early on, she travels the world observing how territories and their landscapes impact the customs of those who inhabit them. She settled in Argentina for six years, where she worked as a writer for National Geographic Traveler Latin America and The Daily Brief, Promax. During her sixth year in the country, she moved to the Andean Jujuy province in order to document the indigenous Kolla communities.
Her approach to the cinematographic language developed in her homeland, working as a street casting director and assistant casting director. "The Andean Screen" is her first documentary as a director / producer. She currently works on its distribution and also writes for Viajes National Geographic and other outlet media.