Cine Las Americas is proud to announce the 18th Annual Cine Las Americas International Film Festival, scheduled for April 22 – 26, 2015. Films will be presented at partnership venues The Marchesa Hall & Theatre, The Mexican American Cultural Center and St. Edward's University Jones Auditorium. The festival will once again offer narrative and documentary feature and short films and videos, as well as experimental and animation selections, in competitive and non-competitive sections.
For the 18th consecutive year, Austin will serve as host to a wide range of international films and filmmakers as the festival creates networking opportunities for industry professionals, and provides a rich cultural experience for statewide audiences. The festival will showcase contemporary films from the US, Canada, Latin America (North Central, South America, and the Caribbean) and the Iberian Peninsula. All films are presented in English and/or subtitled.
---
17th Cine Las Americas International Film Festival

April 22-27, 2014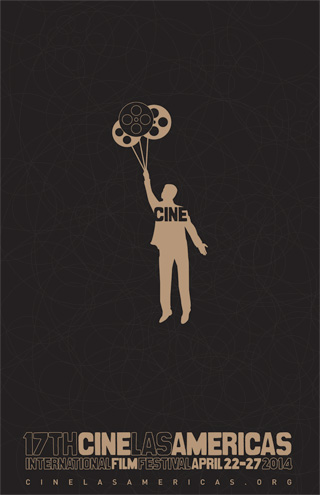 The 17th Cine Las Americas International Film Festival (CLAIFF17) took place on April 22 to 27, 2014 in Austin, Texas. With 2,200 audience members in attendance, the festival screened a total of 63 feature films and 81 short films, representing over 30 countries including Argentina, Austria, Belgium, Bolivia, Brazil, Cambodia, Canada, Chile, Colombia, Costa Rica, Cuba, Ecuador, El Salvador, Finland, France, Mexico, Netherlands, Panama, Peru, Portugal, Puerto Rico, Spain, Uruguay, UK, USA, and Venezuela.
Opening night took place at the Marchesa Hall & Theatre with a successful screening of the Mexican film TERCERA LLAMADA (LAST CALL) directed by Francisco Franco and a special presentation by actress Rebecca Jones.
The festival closed with the Venezuelan drama PELO MALO (BAD HAIR), which screened to an enthusiastic audience. The winners of the competitive sections of the festival were announced at the closing night screening, celebrating a full year of collaboration between local, national and international sponsors, government agencies, supporting individuals, the great Austin community, filmmakers and distributors from around the world, and a dedicated festival staff that included over 40 volunteers.